The CMO's Guide To Forecasting SEO ROI
What you need to know to calculate the return on your investment in SEO.
By Kirsty Hulse
Attributing investment is one of marketing's biggest challenges. With users engaging at multiple touch points, on multiple devices, and on multiple platforms, effectively substantiating your investment in the organic search channel can be a difficult – but not impossible – exercise.
We recognize that search engines are the primary location for consumers to discover new brands, satisfy their purchase intent, and have their questions answered. Being present in this space is essential.
Before investing in a search engine optimization (SEO) strategy, CMOs want to ensure a return on investment. To help you do that, read on for some key questions and useful information to consider about forecasting SEO ROI.
What Do You Want To Achieve And At What Cost?
It is commonplace that brands will want to appear for hugely generic, high volume keywords. For example, a fashion retailer may want to appear for the query "dresses", though due to the hugely competitive nature of this keyword this may not be a valuable investment in terms of direct ROI.
Focusing on more product specific queries, such as "navy polka dot dress", may be a more suitable objective. Less resources will be needed to rank for this term and people searching it are more likely to convert because they have a clearer idea of what they want (i.e., they are further down the purchase funnel).
Before investing in SEO, then, you need to consider: Is this a channel you want to drive conversions or brand awareness? SEO is effective at both, though the proposed ROI will be different according to objectives.
Once objectives have been set, then you need to identify how to measure them. Is the primary measurement increases in organic revenue? Increases in organic traffic? Owning your brand results page?
SEO Reporting Isn't Just About Rankings
There is a common misconception that SEO reporting is about your rankings and how these have changed over time. This is important, though this is only a small part of the puzzle. You may rank higher for "dresses" than you did before, but it is crucial to understand how this is affecting the bottom line.
Rankings alone aren't a valuable reporting metric; they need to be reported on against changes in organic traffic and revenue. A well-positioned ranking for a keyword that nobody is searching for, or nobody is clicking on, is ultimately meaningless.
Although this will vary by brand, industry, and objectives, at a minimum you should track:
Increases in organic traffic.
Increases in organic revenue/conversions.
Increases in category or page improvements if your focus is on a particular category or offering.
Reporting appropriately allows us to track investments retroactively (i.e., campaign cost me X and I made Y) however it's commonly the case that we need to understand proposed outcome before investments are made.
Forecasting SEO ROI To Secure Investment
Various methodologies can be used to forecast SEO.
Perhaps the most common way to forecast SEO ROI is to look at the target keyword group, taking search volume and average click-through rates and calculating projected traffic at various positions. Alternatively we can look at historical data and project based on trends.
However, as with all forecasting, these likely won't be completely accurate. In fact, only 1 in 4 respondents of a recent Linkdex survey said that forecast results were close to the actual outcome.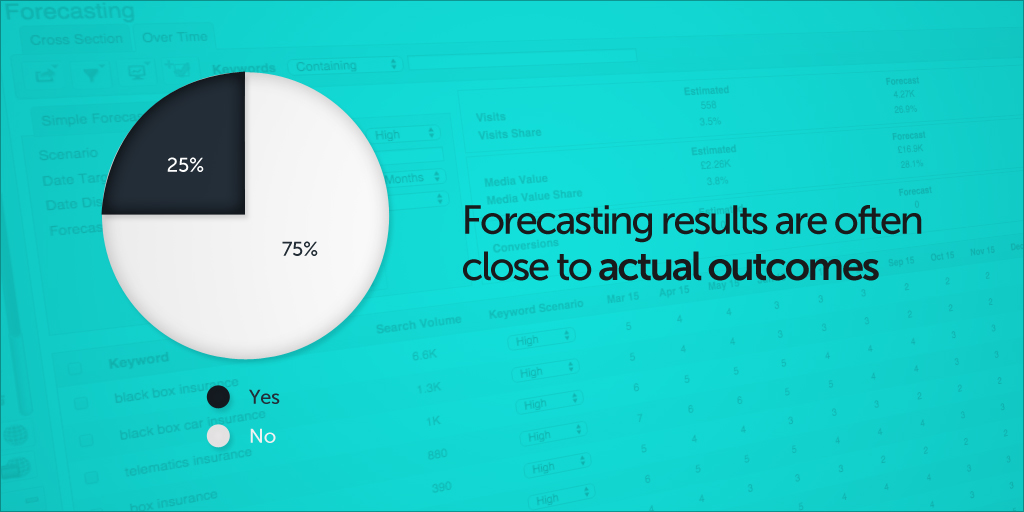 Regardless, forecasting remains a crucial aspect of the process, with more than 64 percent believing that financial decisions are made based upon forecasts.
Simon Heseltine, Senior Director at AOL, said:
From a strategic perspective, forecasting helps you to prepare your content plan, and allocate your resources as effectively as possible, so it's a vital part of the process, however one that can sadly fall by the wayside if your team is under-resourced.
It seems the case that the industry needs to forecast in order to secure investment; particularly, as Russell O'Sullivan, Senior Digital Marketing Manager at Legal & General points out, when sign off is being generated at a board level and from those who may not be especially close to the granularity of the channel.
I feel forecasting in SEO is highly important from a client point of view, it's a metric to work towards and underpins budget allocation to the channel. From a client side, if you cant forecast what traffic and estimated conversion rates (sales) are going to come from SEO, then its going to be a hard sell at board level into why you assign, in some case such big budgets to the channel. SEO usually brings a much lower CPA than other digital channels, so making sure to forecast and monitor is of key importance.
Forecasting can be time consuming (92 percent of survey respondents agreed) however this is broadly symptomatic of a channel that's fairly in its infancy. Forecasting is an essential part of justifying investment; so although it needs to be caveated against variables, it's an essential pursuit.
The Process of Understanding SEO ROI
Begin by understanding specific objectives and goals. Why are you considering investing in SEO?
Once your objectives have been defined, understand how these will be measured. Traffic? Conversions? Ensure that goals and analytics properties are appropriately set up.
We can then forecast against these measures to understand projected investment. If we understand the size of the opportunity then we can justify the optimal spend to access it.
Report against forecast. Ensure that the SEO reporting is aligned directly to the forecast numbers so all parties can understand how they are tracking.
Finally remember that impacts will not be seen overnight, SEO is a long-term investment, one that requires input from all areas of the marketing spectrum.
Want to learn more about SEO reporting? Download Linkdex & Momentology's free ebook, SEO Now. 
How important is forecasting the ROI of SEO to your brand?