CMOs: New Mobile Marketing Strategies Needed To Match Consumer Demands
Consumers are leading advancements in mobile technology – can brands keep up?
By Patrick Hong
A survey of marketing leaders conducted by the CMO Council has revealed a comprehensive picture of the state of mobile marketing and technology. When it comes to mobile, change is being led by consumers. The survey suggests that brands need to change and restructure the way they think about mobile to keep pace with consumer expectations and demands.
There is a consensus among those in the digital industry that will be an exciting year for further improvements in mobile technology.
The momentum eclipses that of digital channels, and for good reason. According to the recent CMO Council report, Getting in Sync with Mobile Customers: Capitalizing on Marketing's Big Mobile Opportunity:
"Mobile, at its core, is more than just another channel because interactive devices such as tablets and smartphones are digital, search and social, all in one."
Mobile is a defining factor in the way consumers engage in digital experiences as they navigate their purchase journeys, and the way they are using the technology is evolving to fit their needs. It's something senior marketers are acutely aware of; according to 32 percent of the respondents surveyed in the CMO Council's report, "the reason that mobile is increasingly important is because customers are using mobile and social to connect with brands."
Capitalizing On The Mobile Opportunity
The change proliferating on mobile devices and platforms is creating new opportunities for brands and organizations to engage with customers, but grasping this opportunity means businesses need to properly understand the way consumers consider and use mobile, and provide for their needs accordingly.
Research from eMarketer and InMobi has revealed the following impressive statistics about the state of mobile search:
4.55 billion mobile phone users globally.
1.74 billion of those have smartphones.
25 percent of online searches are now conducted via mobile web.
Mobile commerce now accounts for 15 percent of total U.S. eCommerce revenue.
Also, mobile media consumption now accounts for 12 percent of a typical consumer's media consumption time.
54 percent of millennials use mobile web as their primary or exclusive means of going online.
48 percent of consumers say that mobile directly influenced their in-store buying decisions.
The speed of change means that organizations face a continuous challenge to provide for consumer touchpoints, as they use mobiles to interact and be influenced by brands and products throughout entire purchase journeys.
To keep pace, brands need the vision and agility to enact change. It requires "new thinking, new platforms and new talent," the breaking down of cumbersome organizational structures and barriers, and the restructuring necessary to propagate a "mobile-first" mindset throughout entire customer journeys.
Understanding customers intent (how consumers wish to engage with different devices at different times) represents a challenge, but an abundance of data is now available to inform brands of the strategies that will meet their customers needs. However, change will only be effective if it propagates throughout the marketing and operational divisions of a brand – individual campaigns may achieve short-term gains, but only through an intrinsic integration of the critical nature of the mobile mindset will brand find true affinity with consumers, and reap the rewards.
Are Brands Ready To Meet The Mobile Opportunity?
The good news: while organizational structures may present a significant barrier to change, there is an appreciation in the industry for the need for change.
When asked whether their business had a "fully integrated mobile marketing relationship strategy," 61 percent of respondents said that they had some form of mobile strategy implemented or in development.
Thirty-one percent of respondents, however, indicated that they had no, or only limited mobile campaigns, and just 17 percent stated that they had already developed a mobile strategy that was fully implemented in their overall marketing strategy.
When it came to business intentions, the results were positive. Not a single respondent considered mobile to be the "latest shiny toy" in marketing, and 45 percent of respondents stated who had integrated mobile with overall marketing strategies said that they were practicing mobile-first strategies.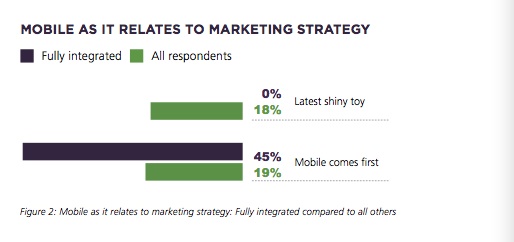 In comparing mobile to other marketing strategies, the results were diverse. The majority (64 percent) regard mobile as a critical channel, saying that mobile helps their brand deliver more personalized experiences.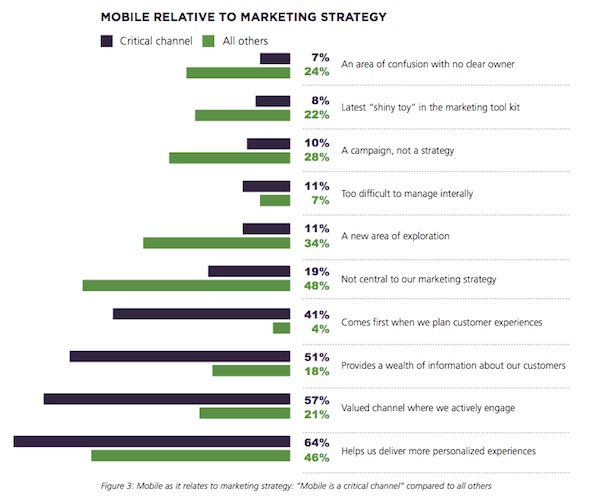 On the other end of the scale, 48 percent of respondents didn't consider mobile to be central to their marketing strategies.
Developing A Customer-Centric Mobile Experience
The results represent a picture of mobile marketing that is quietly optimistic. While some of the results from the respondents to the CMO Council's survey depict slow progress in adapting businesses to a fully integrated mobile mindset, there is undoubtedly appetite and willingness among industry professionals to improve mobile experience delivery.
The greatest gains for brands will be in developing mobile experiences that keep pace, and deliver a customer-centric mobile experience that seamlessly enables persuasive consumer journeys as they consumer and interact with digital media.
Developing a customer-centric mobile experience requires improvements in many aspects, and marketers remain divided as to their exact priorities. The majority, 64 percent, aim to develop mobile experience "across operating systems"; 31 percent aim to develop "unique experiences"; and 13 percent are looking to develop a "single mobile experience."

Finally, a final insight of CMO Council's report encourages marketers to consider how they can better leverage data insights to develop a customer-centric approach to mobile. Only via greater understanding and implementation of consumer needs and behaviors will brands maintain contact with advancing mobile usage and maturity. After all, the disparity between what consumers want, and what they are experiencing, fuels an opportunity for organizations to advance mobile technology, and the growth of their own brands.
You can access CMO Council's full report here.
What's your advice on how brands can seize the mobile opportunity?