Finance Brands & Social Media: Consumers Expect More
Finance industry is missing out on moments to create awareness, build loyalty, and manage consumer relationships.
By Patrick Hong
Most consumer-facing brands and businesses recognize the value of 
social media
. While many appreciate the intrinsic value that the channel can provide across consumer purchase journeys – from raising brand awareness, to building loyalty and managing consumer relationships and complaints – there are still significant industries in which social media is underutilized. A significant gap exists between what finance brands are delivering on social media, and what consumers demand and expect of them, according to new research from ShareThis.
The understanding that social media can empower both "value and productivity" has been a point of discussion among marketing academics and consultancies for many years. Certainly among consumer-facing brands, there have been significant efforts to understand and engage consumers via social media, as well as impressive examples of brands using the channel to effectively manage their reputations, addressing consumer complaints and concerns.
ShareThis, a social media analytics and insights technology platform, have released new research, High Finance and the Sharing Economy, detailing the extent to which social media is underutilized by the finance industry, and the opportunity for brands operating in the space.
An analysis of 3.1 million sites and apps found that finance is both a highly social topic, and one with unique and fascinating nuances that can inform brands about consumer journeys as they evaluate and potentially purchase a product. Social media is largely an untapped opportunity for finance brands to interact with consumers, according to Kurt Abrahamson, CEO of ShareThis:
"With over 32 million users sharing finance-related content to their social networks every month, the impact of social media and the sharing economy on consumer behavior is undeniable. Our findings revealed not only that finance is, in fact, a highly social topic (with no less than 68 million monthly social signals), but one with fascinating behavioral nuances, clear seasonal trends, and favorable life stage alignment."
According to the report:
As many are 68 million social actions take place in the finance vertical every month.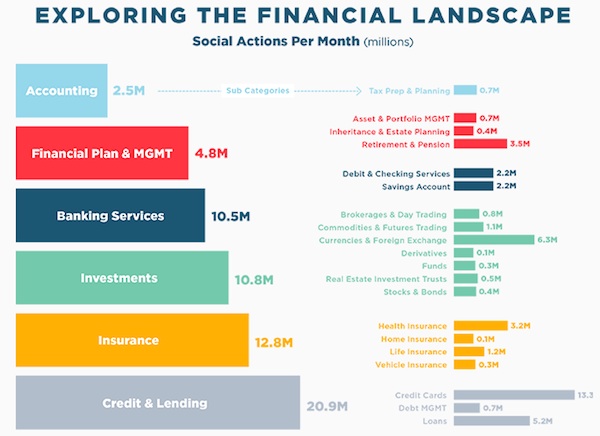 Credit & Lending is the most social sector in finance, with 20.9 million social actions.
Insurance is the second most social, with 12.8 million social actions every month.
Tablets users are double as likely to engage with finance content (and many use their devices to manage the portfolios and investments).
Conversations about finance are seasonal. Both the tax season and quarterly earnings experience a spike in social media usage.
In terms of demographics, millennials are most likely to share finance content via social media.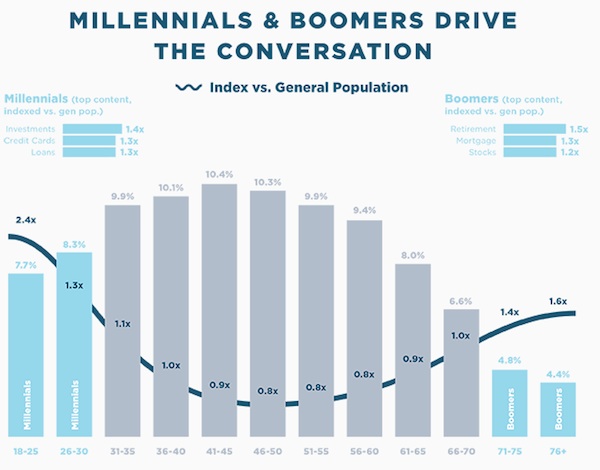 Social Opportunities For Finance Brands
While consumer demand for financial brands to be present on social media clearly isn't being met, some finance brands have managed to establish a positive presence on the channel. Let's look at a few.
1. ING Groups Real-Time Personalized Marketing
Dutch Bank ING Group has established a commendable presence on Twitter. It has embraced a reactive marketing strategy, one that lets the brand offer personalized real-time offers on the platform.
ING adopted multi-channel tactics that allowed the brand to advertise products at the most relevant moments, and not after a promotion is already beginning to lose its value proposition. The result: campaign response rates increased and the bank expected to reduce direct marketing costs by 35 percent per year.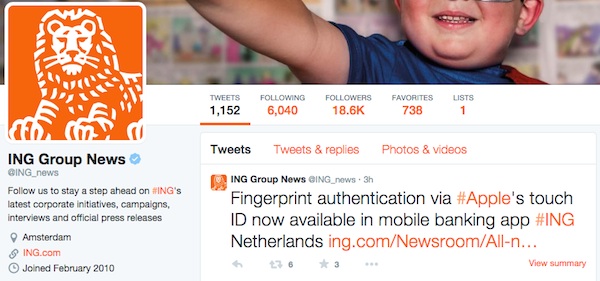 2. GTBank's Pioneering "Likeability"
Social media also enables banks in emerging markets to distinguish themselves. As reported by Koozai Nigerian bank GTBank were able to establish themselves as Africa's most "liked" bank, with the brand using Facebook to build trust and its reputation with consumers.
The brand has attracted almost 2.4 million Facebook likes as of this writing, thanks to the consistent, informative, and relevant content GTBank promotes on the social network.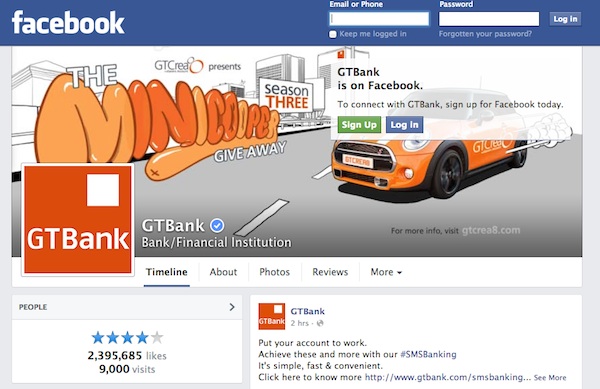 Having so many followers will allow the brand to develop a sophisticated methodology for listening to needs and grievances of consumers, providing the brand with valuable feedback.
3. Morgan Stanley Smith Barney's Empowering Connectivity
Social media isn't necessarily restricted by platform either.
Financial advisors Morgan Stanley Smith Barney, recognizing the value that social media as a communications channel, connector, and enabler, developed an internal network that had the ability to pair senior financial advisors with customers who were seeking their help and expertise.
Morgan Stanley Smith Barney was awarded the accolade of being one of the "Most Connected Companies" in financial services, with the network encompassing and connected 17,000 financial advisors.
It Pays To Be Social
The above examples are just a few ways finance brands are leveraging the power of social media to improve customer journeys and experiences, and manage their own reputation. After all, consumers expect finance brands to provide excellent customer service and demonstrate the values of customer-centricity.
Smart finance brands are already beginning to meet the expectations of digital consumers. UK Building Society Nationwide, and HSBC subsidiary First Direct, were recently recognized for providing exceptional customer service, while consumer action and finance "guru" MoneySavingExpert was recently named as one of the UK's top brands.
Social media provides finance brands with a powerful and authentic way to connect with customers. Brands should approach the channel in creative, empowering ways that enhance the customer experience.
You can see the full ShareThis report here.
Are finance brands missing an opportunity to reach and engage customers on social media?