Brands Use International Women's Day To Talk Gender Inequality, Empower Women
Brands use day to celebrate importance of women and shine a light on domestic abuse.
By Lisa Lacy
International Women's Day is a single day -- March 8
 -- that "
represents an opportunity to celebrate the achievements of women while calling for greater equality," at least according to the website InternationalWomensDay. And this year, a number of brands used the occasion to roll out campaigns – and, in several cases, just single-day activations – that are tied to longer term, more evergreen efforts.
Traditional advertising collateral like billboards and magazines, as well as digital favorites like videos and hashtags, aimed to draw attention to weighty topics like gender quality, empowerment and domestic abuse on International Women's Day.
Marketing experts say leveraging popular memes and hashtags is a great way to draw attention to these issues and can help brands connect with women in particular on an occasion like International Women's Day, but the challenge remains to actually live the message by demonstrating these values in the market.
Here's a look at some of the more noteworthy efforts for International Women's Day this year.
Clinton Foundation's #NotThere
On March 8, brands teamed up with the nonprofit Clinton Foundation to raise awareness of gender inequality by removing women from their advertising to "[reflect] what a new analysis of women and girls' progress says about the state of gender equality: we're not there yet," the website Not-There says.
As part of the effort, media company Condé Nast removed the cover images on titles like Vogue, Glamour, Self, Allure, Teen Vogue, W, and Brides, and instead directed readers to Not-There, which has facts on gender equality, along with interactive data visualizations.
In addition, on Clear Channel Outdoor's Times Square billboard, audio products brand Beats by Dre removed images of women and directed consumers to the Not There website. Additional brands like Dove, Tresemmé, Under Armour, and Kate Spade New York also removed women from their advertising and directed consumers to Not-There.
"I think sometimes the media gives the false impression, through its visual imagery, that women are treated equally in the global conversation, said Vogue Editor-in-Chief Anna Wintour, in a prepared statement. "It is important for us to correct that impression, even symbolically on March 8, to move the conversation forward and create real change."
Created in conjunction with ad agency Droga5, the Not There campaign coincides with the release of the No Ceilings Full Participation Report, which the Clinton Foundation says is a 20-year data-driven review on the status of women and girls since 1995, when Hillary Clinton called on the international community to ensure that "women's rights are human rights."
The Not There campaign and No Ceilings data was also featured in Snapchat's Discover platform as a day-long takeover of Snapchat's Snap Channel. In addition, iHeartMedia radio stations launched an on-air Not There campaign that played clips by female artists without the female vocal tracks.
"We are taking a collective stand that full participation for women and girls anywhere and everywhere remains the unfinished business of the 21st century," said Clinton Foundation Vice Chair Chelsea Clinton. "By knowing the facts and what has worked and hasn't worked to advance gender equality, we can accelerate the pace of change for women and girls…"
In an accompanying video, actresses Amy Poehler, Cameron Diaz, Jenny Slate, Sienna Miller, and Padmi Lakshmi lent their voices to "inspire Americans to learn the facts on gender equality and inspire action on a global scale."
The video had about 35,000 views as of March 8.
Women's Aid's #LookAtMe
Creative agency WCRS and UK domestic violence charity Women's Aid teamed up to create an interactive billboard for International Women's Day that, per a press release, "shows how we can all make tangible changes in the fight against domestic violence."
Per WCRS, the engagement-activated billboard included the image of a bruised woman and the message, "Look at me."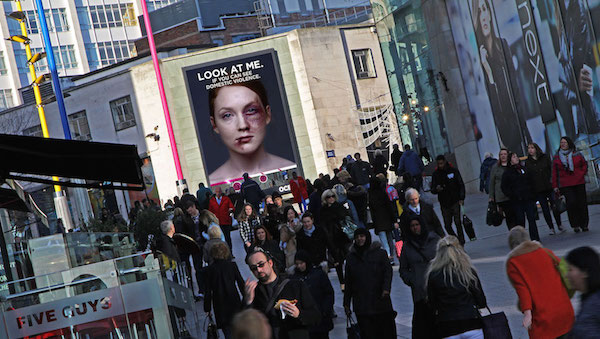 The creative, which was displayed at three locations in the UK, used facial recognition technology that WCRS says enables the screens to recognize when consumers paid attention to the woman. As more people noticed her, her bruises slowly healed, which, WCRS says, demonstrates that by taking notice, consumers can help confront domestic violence.
Passersby who looked at the screens also got feedback via a live video feed that ran along the bottom of the ad as a visual ticker tape, registering an increasing number of viewers. As of March 6, Stuart Williams, planner at WCRS, said WCRS was still tracking engagement, dwell time and donations, but says, "Anecdotally, we've seen a really positive response to the campaign, with a particularly warm reaction on Twitter."
According to Williams, WCRS created a 3D cinema ad for Women's Aid called Blind Eye that asked consumers to cover one eye to see one side of the story – a woman going about her day-to-day life – and to cover the other eye to see the other side – the woman being abused by her partner.
"This campaign was really successful but we felt like there was more we could do – while the viewer could choose whether to watch or not watch, he/she couldn't actually influence what was happening on screen," Williams said. "We thought the message would be even more powerful if the viewer's choice to look or not to look could actually have a direct impact on the outcome."
Salvation Army's #TheDress
The South African arm of charitable organization Salvation Army capitalized upon the popularity of #TheDress hashtag to also highlight abuse against women in a tweet that played on the dress' colors and asked, "Why is it so hard to see black and blue? The only illusion is if you think it's her choice. One in six women are victims of abuse. Stop abuse against women."
Is it so hard 2 see black & blue? 1 in 6 women are victims. #StopAbuseAgainstWomen #blackandblue #whiteandgold

— TheSalvationArmySA (@SalvationArmySA) March 6
As of March 8, it had more than 7,800 retweets and 3,500 favorites. Further, per the Salvation Army, the ad was also the subject of more than 3,000 tweets in the space of an hour on March 6 and "had the potential to reach 6 million viewers throughout the world."
"We are enormously encouraged that so many people on social media appear to be passionate about fighting the abuse of women," said Carin Holmes, PR Secretary for the Salvation Army's Southern Africa Territory, in a prepared statement. "We are indebted to advertising agency, Ireland Davenport, for their creativity."
The Salvation Army's work among abused women includes a shelter, Carehaven in Cape Town, which it says offers sanctuary and short-term housing to up to 60 women and their children.
According to Tessa Wegert, communications director at digital marketing agency Enlighten, leveraging popular cultural memes and hashtag trends like #TheDress is a great strategy for recalibrating the way consumers view social issues.
"If there's an opportunity to turn a meme into a debate about a more meaningful issue, organizations should jump on that," she said. "It gives them immediate access to a massive audience of engaged social media users, and dares those users to see a familiar visual in a new way."
However, Wegert notes the challenge for brands working to call attention to issues like domestic violence is to cut through the social media clutter, but being unpredictable as the Salvation Army has done can really help.
Further, Kris Kiger, executive vice president and managing director at advertising agency R/GA, agrees campaigns like this can be an effective way to seed the discussion of serious issues.
"We are a highly fragmented population with disparately shared experiences. Advertising might be the one way we can assure the seeding of important public awareness," she said. "I think advertising is storytelling, and it's a great way to reach and affect audiences. Advertising reflects culture. At its best, it can affect and help shape it. It's a great responsibility the industry has if we choose to recognize that."
YouTube's #DearMe
In addition, YouTube is encouraging consumers to upload video letters addressed to their younger selves in an effort called #DearMe for International Women's Day.
An overview video from YouTube has 3.5 million views as of March 8.
A blog post reminds users how hard it was to be teenagers and implores them to "share your experiences to help make that journey easier for a new generation of girls" with the hashtag #DearMe. A search on YouTube for the hashtag yielded about 15,000 results as of March 8. Further, per Topsy, #DearMe has more than 100,000 mentions since March 1.
Users can also utilize YouTube's GIF-maker on its #DearMe Tumblr page.
"YouTube is a place where people can come together, share interests, relate experiences and offer each other support. From #ItGetsBetter to #ProudtoPlay, we've seen our community inspire and empower those in need of encouragement," the platform says. "Today, we're asking you to do the same for girls who don't have to face their problems alone."
Digital industry consultant Hollis Thomases said to expect more of this feel-good/inspirational advertising going forward.
"Women are 'more feeling creatures,' as it's been put out there and evocative advertising like this gets the core of a feeling," she said.
However, she notes concern about the overuse of campaigns like this "particularly if the brand messaging does not connect to what the brand actually demonstrates in the market" because "branding and messaging alone will not work unless the consumer can also believe that the company behind the message actually 'lives' that message," Thomases said.
Always' #LikeAGirl
In addition, feminine brand Always released another video, Stronger Together, in its #LikeAGirl campaign, which has about 163,000 views as of March 8.
Always launched the first #LikeAGirl video in June to "shed a light on the power of words and how the commonly used phrase 'like a girl' – often used as an insult – can have a significant effect on girls' self-confidence."
It has more than 56 million views to date. The brand also repurposed the ad for the Super Bowl and gained another 2.5 million views.
"With this new user-generated video, we continue to champion girls' confidence by taking a stand to turn #LikeAGirl into a phrase that represents the strength, talent, character and amazing-ness of every girl," the brand says.
Per Always, the spot has been seen by more than 85 million people overall and has helped deliver "a powerful message to young girls to help them maintain confidence at puberty" and "inspired millions of girls around the world to take action by sharing what they proudly do #LikeAGirl," which is showcased in the most recent video.
In addition, Always says its #LikeAGirl campaign has also started to change public perception. Per Always' research, before the campaign, 19 percent of females ages 16 to 24 had a positive association with the phrase "like a girl," and, after watching the video, 76 percent agree they will no longer view "like a girl" as an insult. In addition, 59 percent of men said it changed their perception of the phrase "like a girl."
According to Kiger, launching the video with a branded hashtag as the name is part of a strong strategy.
"It allows people to lean back at first and take in the setup, but as you continue to reference it, lean into it and share it, you continue to fuel its cause and own a piece of the campaign," she said. "Great brands do just that. They stand for something and give something meaningful to their consumers, and sometimes they can help change things for the better."
Further, Kiger said it is only natural for campaigns like this to support International Women's Day, but they can also be part of year-long branded efforts.
"The great thing about campaign and efforts like these is that they can and should be evergreen," she said. "They are movements and should live as long as needed."
What's your take on these branded efforts for International Women's Day?