10 Facebook Content Marketing Dos & Don'ts For Brands
A Facebook marketing strategy your fans will like and that will bring your brand and stories to life.
According to Facebook, the goal of its News Feed is (and always has been) to "show people the things they want to see." Over the course of last year, Facebook took feedback from its users and got to work optimizing the News Feed experience. For brands, this is a significant transformation that puts content marketing at the heart of Facebook strategy. By refocusing Facebook efforts on the things consumers want to see and knowing the basic dos and don'ts, marketers can leverage the channel as another extension to bring their brand and its stories to life.
Don't Make It All About You
With eminent changes rolling out to Facebook's News Feed algorithm  to weed out overly promotional posts, brands should take this opportunity to re-evaluate the messages they are sharing. Instead of selling, focus on telling stories that resonate with your audience but are still relevant to your brand.
A good example of this can be seen with Blue Apron. Blue Apron offers a service to deliver ingredients and recipes for people to prepare meals at home, but here, it offers a link to helpful instructions on how to make stock using vegetable scraps.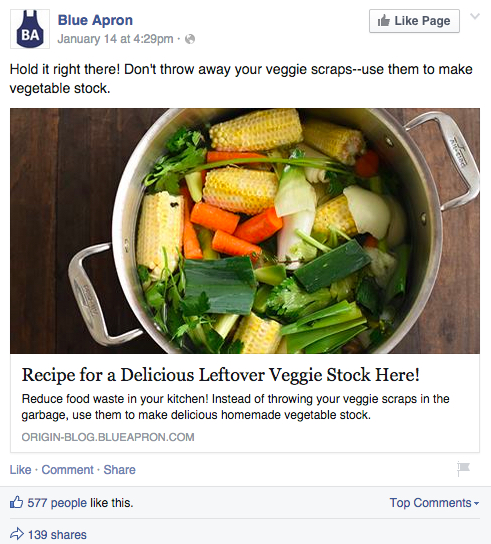 This may seem counter-intuitive to the service they provide, but it's actually a successful way to connect with the culinary interest of their target market. Furthermore, this post drives audiences back to the brand's blog where they can explore more recipes and continue to engage with more content.
Do Capitalize On Timely Events
While you want to capitalize on timely events, they must be appropriately aligned with your brand. If you try to reach too far outside the bounds of your brand persona, you won't seem genuine. When executed successfully, this type of content can draw high engagement given Facebook's consumable and shareable nature.
Two brands that have done this right include Nasty Gal and Tostitos.
Awards season is as much about the fashion as it is about the awards. Nasty Gal took the Golden Globes as an opportunity to highlight red carpet fashions and offer similar, inspired finds from its brand.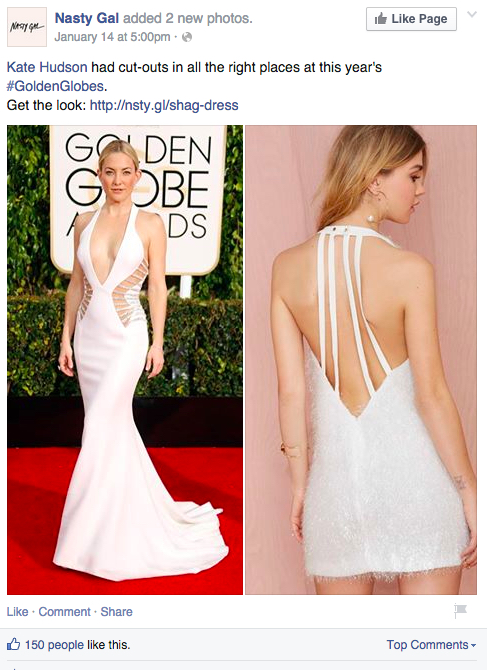 Whether it's game day or National Queso Day, Tostitos is on it with on-point content.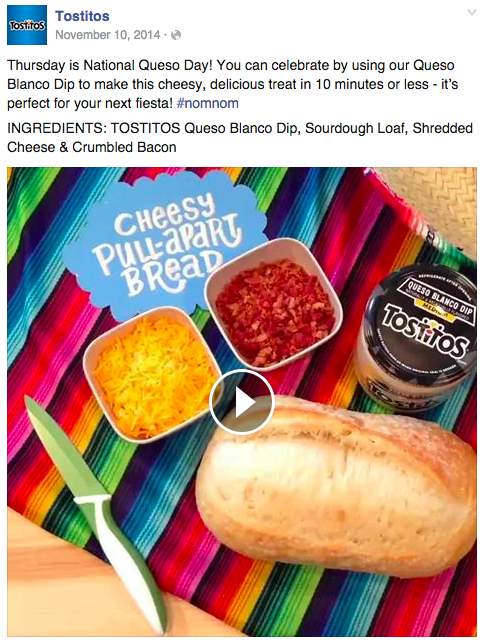 Do Empower The Community
Tap into the power of your fans on Facebook and make your content more interactive. These people have liked your brand for a reason and are a strong base from which to pull ideas and feedback.
The Honest Company took an opportunity to solicit its customers for feedback on their favorite products and added a giveaway to encourage response.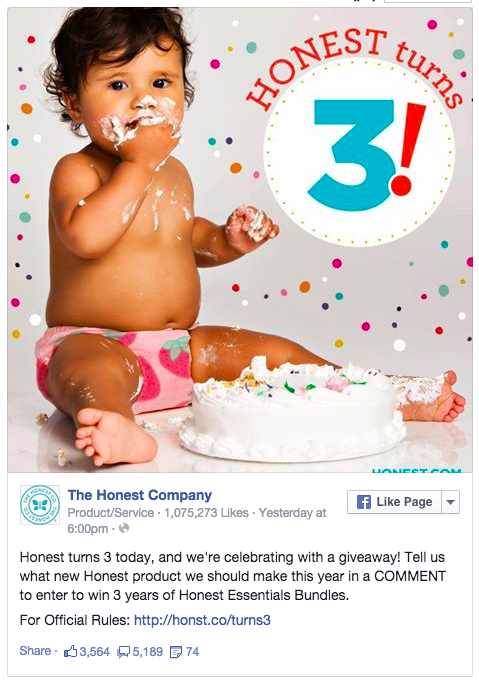 Benefit Cosmetics asked its fan to caption a fun photo and enticed with a reward.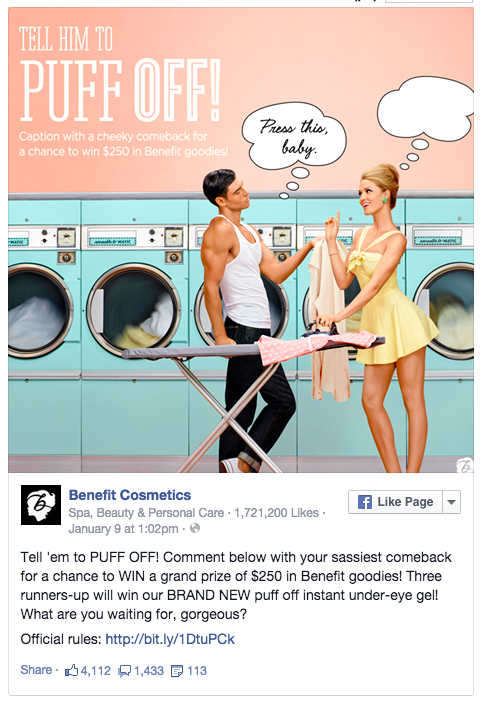 These examples show how to get a two-way conversation going and can make the audiences feel like they have more of a stake in the brand — adding an incentive once in a while doesn't hurt either.
Do Tag Other Pages, Companies, Fans In Your Posts
Further build a sense of community by connecting with customers and highlighting relevant partners by tagging them in photos and posts. Similar to the example above, this simple tactic can go a long way by shining the spotlight on others, rather than the brand itself.
GoPro can often be seen sharing photos and videos submitted by the users of its product (a great way to source content, by the way) and giving credit where due.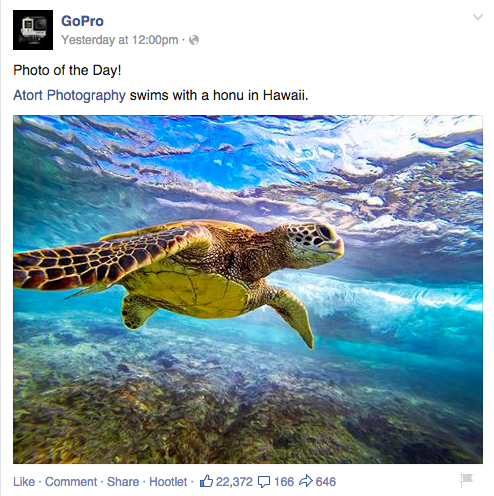 Do Optimize Your Photos, Posts
Getting images right on Facebook may mean the difference between getting someone clicking on your content or ignoring it. The image present with a link is the first impression given to the view so you better make it count.
Know the ideal dimensions for photos and images; these can change frequently so keep tabs on Facebook updates. Furthermore, when inserting a link, consider updating the photo, title, and description that's auto-populated if needed to create something more bespoke and appealing.
When you find a post that works, pin it to the top of your page so it won't be missed by visitors.
Do Boost The Facebook Experience With Apps, Additional Content
Facebook has evolved to include a variety of additional content opportunities that integrate within the Page ecosystem so brands can build out customized, branded hubs.
Take advantage of available apps to build out your page, making it more inviting and useful for consumers. Add tabs to stream your other social feeds; if you have store/shop locations, highlight them through map plugins.
And now, you can even integrate specific and relevant calls to action that align with your overarching business goals, like Zappos' inclusion of "Shop Now."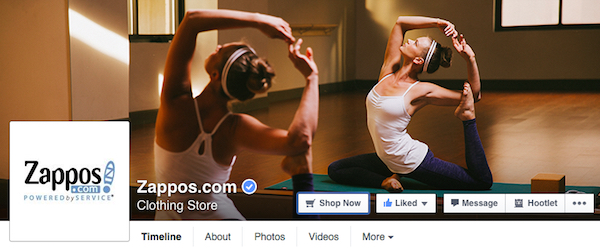 Do Explore Video
Earlier this month, Facebook reported a 3.6x year-over-year growth in the amount of video in the News Feed. Facebook video has exploded for over the past several months, overtaking YouTube for the amount of video posts from brands in late last year.
Video offers a multi-sensory experience for your audience and a way to enhance your storytelling.
It worked for British retailer John Lewis, which saw Facebook source 40 percent of views for its annual Christmas advert.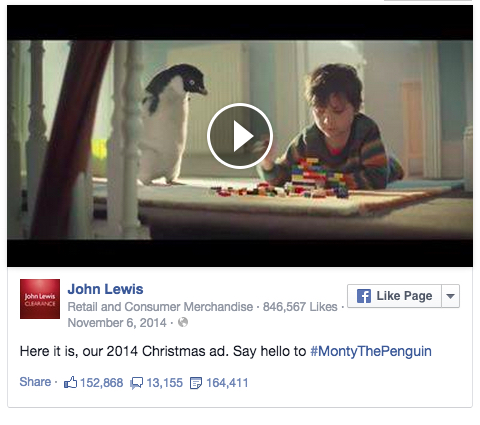 With the opportunity for video on Facebook growing exponentially, now's the time to explore this format.
Don't Ignore The Insights
Let data help guide the decisions you make about your content on Facebook. Facebook Page Insights are a free and easy way to get an understanding of how your page is growing and performing, what posts are garnering the most engagement, and what your audience looks like. These analytics can help shape your strategy so you can be the most effective with your content on Facebook.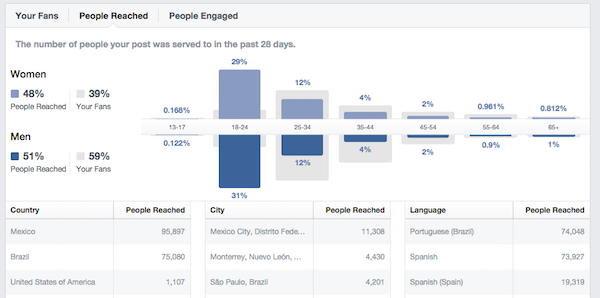 Don't Think You Can Get By Without Some Paid Promotion
By now, we all know that Facebook reach is on the decline. Your organic presence alone won't get you the same visibility as it did in the past. To compete in the market, you must consider paid promotion to complement your efforts.
Even on the paid side, however, impression levels are decreasing, but the good news is, engagement has not faltered — this has to do with powerful targeting options that allow advertisers to better identify and reach their key audiences.
Make your advertising worthwhile by amplifying your key messaging and best performing content. As you grow more comfortable with Facebook advertising, seek out more advanced targeting methods to tailor and optimize your content for specific audience segments.
Don't View Facebook In A Silo
While Facebook may be the reigning destination for consumers, it isn't the only social networking site visited. The majority of Facebook users also engage across additional social networks such as LinkedIn, Twitter, Instagram, and Pinterest, according to findings from Pew Research Center.
Given this, remember that Facebook is only one component of your content marketing strategy. Since your audience could very well be following you across several outlets, make sure you spread out your efforts across the channels that matter most to your consumers. Create a consistent brand experience, but at the same time, keep your messages varied across platforms – a copy/paste of posts from one channel to another looks lazy and may results in people hiding your posts or even unfollowing you.
What other Facebook marketing dos or don'ts would you add?