3 Pillars to Build Stronger Social Strategies Amidst Declined Facebook Reach
By promoting the most relevant and engaging content with more refined targeting techniques and optimizing using insights about your audience, you can help ensure you're reaching your target consumers at the moments they're looking for you on Facebook.
If search is the king of intent, social rules the realm of interaction. In the initial onset, social advertising through channels such as Facebook helped fill in the top of the purchase funnel, driving awareness and consideration in a socially engaging environment. As Facebook has evolved, the advertising opportunity has grown to capture more downstream activity too.
As of the end of June, Facebook boasted an impressive 1.32 billion active users worldwide. For brands looking to connect with consumers through the funnel, the opportunity is prime on Facebook.
The concern of many brands has been, though, the decline of organic reach on Facebook over the past year – a fact that Facebook acknowledged back in December. The trend has continued, too.
In February, Social@Ogilvy analyzed more than 100 brand Facebook pages and found that organic reach clocked in at an average of 6 percent, a drop of 49 percent from levels measured in October.
More recently, Facebook wrote on its blog that "on average, there are 1,500 stories that could appear in a person's News Feed each time they log onto Facebook" and of those, approximately 300 are displayed.
The shelf life of social content is short. With a shrinking number of slots, there's growing competition to get in front of consumers.
Marketers looking to ensure they reach consumers at key apertures on the path to purchase via Facebook should hone in on three key pillars: content, audiences, and insights
Pillar 1: Content
Engaging and relevant content is the foundation for a brand's strong social presence.
For its part, Facebook has been making changes to the newsfeed and posts in an effort to create the best experience for its users. Earlier this year, the social network announced plans to weed out the spam practice of "like-baiting" and just a few weeks ago, took steps to reduce click-baiting as well. These measures boil down to Facebook putting the onus on brands to develop higher quality content.
As a best practice, test a variety of types of content to see what messages and formats resonate with consumers and ensure you are using the appropriate "story type" on Facebook when posting. This means that links should appear in the link format or else risk being penalized, for example. To elicit higher response rates, keep messages and calls-to-action clear and concise.
If an audience finds your content relatable and memorable, and it's delivered in an optimal fashion, then it gets people liking, sharing, and commenting. This momentum has the ability to turn your content into conversation, potential customers into buyers, and fans into loyalists.
Moosejaw Mountaineering is one brand that's really engaged customers in the social media experience. One way it has done this is by soliciting the community to send in photos ("Custy Pics"), which they then source for the page's cover photos.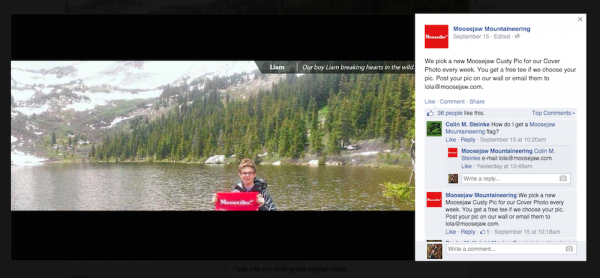 Moosejaw's content can be a little off-the-wall at times (curious about the 10 pitfalls of Glamping, anyone?), but it works with the persona they have established and the fans continue to respond positively.
But what good is "engaging" content when it suffers from low visibility?
Pillar 2: Audiences
Good content is table stakes, but you will likely find that this alone might not get your brand the reach they're seeking, particularly when trying to engage prospective customers. Brands and organizations have the opportunity to promote organic content to highly targeted audiences through paid advertising, essentially amplifying high-performing posts.
While organic reach has been waning, Facebook has been busy introducing more advanced targeting options to help boost paid efforts. By leveraging Custom Audiences in conjunction with Lookalikes, you can easily identify offline audiences from among Facebook users then extend reach to find new consumers who share common characteristics with your existing customers.
This is what eco-friendly jewelry retailer Alex and Ani did to help extend reach and boost sales last holiday season. By connecting offline lists like CRM databases, brands can find existing customers on Facebook and drive exclusive incentives to these individuals. Then, lookalikes allow for added expansion into similar audiences – such as those who have visited your website or downloaded your app.
Custom Audiences can be further refined by connecting the intent signals from paid search clicks to corresponding consumers on Facebook. This innovation opens up new pathways to target audiences across channels and helps improve ad relevancy, which would likely lead to a lift in performance.
Also consider unpublished page post ads as a way to create more tailored messaging without oversaturating audiences. Through Unpublished Page Post ads, you can take variations on your best performing owned media posts and then send those out to specific, granular targets, including the Custom and Lookalike Audiences, as mentioned above. This ad type allows for more discreet testing of images and copy to find the best-fit combinations for specific audience types.
Pillar 3: Insights
With solid content and sophisticated audience targeting in place, you can now optimize your programs and see how Facebook amplification contributes to driving bottom-line goals of sales and revenue. However, in today's data-driven world, metrics are only as good as the insights obtained and the actions taken as a result of analysis.
A customer-centric approach should carry over when leveraging social data to optimize campaigns; in this way, you can remain focused on delivering highly relevant messages and ads with which audience will more likely interact and respond.
Ask yourself:
Have you viewed demographic data to improve messaging across ages, genders, and geographies?
Is your audience most active during particular times of day or days of the week and if so, are you taking advantage?
Are you providing a differentiated mobile ad experiences to drive customers to your app, if applicable?
Are you examining owned and paid strategies under the same lens to identify opportunities for program synergy?
Are you viewing social in a silo or are you taking a holistic approach to attribution and measurement across channels?
Can you learn something about conversion habits based on where Facebook falls in the path?
How is your brand promoting its most relevant and engaging content on Facebook to create awareness and increase your numbers of loyal followers and brand advocates? Leave a comment below or Tweet us @momentologyNews.