4 Standout Facebook Marketing Campaigns
Coupons, apps, real-time content, Q&As; prove a hit with Facebook users.
From interactive Facebook apps to coupons done right, brands testing the ROI of Facebook marketing campaigns had something to post about.
Facebook marketing can take the shape of coupons, apps, and even live-streaming video events., the NBA, Listerine, MTV and one small sporting goods business ventured into new territory with unique Facebook marketing campaigns.
1. Hesselson's Tests The Facebook Waters And Makes a Splash
A family-owned sporting goods and swimming pool store decided that for its 60th anniversary celebration this year, it would try something new with its marketing efforts: a special offer on social media. With no previous ecommerce efforts, but a recognition that consumers were frequently connected to computers, tablets, and mobile devices, Hesselson's decided to test new online waters.
"When people ask me why a small store like ourselves is still around after 60 years with all the big box competition, the answer is that we continue to look for change — things that will make us better," Hesselson's president Tom Hesselson told MarketingSherpa.
Through its previously existing Facebook page, Hesselson's first posted a coupon for $50 off a purchase of boots at $200 of more. This was a bigger discount than they usually offered (between $20 and $30). Hesselson wanted the offer to be significant so that if the campaign turned out to be a dud, he wouldn't have to question if it was the strength of the offer or the social media vehicle that was to blame.
The success of that first offer led to the launch of a weekly Facebook coupon campaign. These weekly offers, along with the brand's other Facebook activity, focused on educating consumers about their products and how to use them. And it drove a new set of customers to the brick-and-mortar.
"We definitely hit a different group of people than we hit with TV, radio and newspaper," Hesselson told MarketingSherpa, adding, "I look at Facebook as the new word of mouth."
The results:, Hesselson's attributed $5,500 in net store sales to the Facebook campaign. Hesselson's also so a 23 percent increase in online-to-offline conversion, and a 1,100 percent boost in marketing ROI.
2. MTV's Facebook App Match Machine
In a time where TV viewership is declining while social media use is rising, MTV designed a Facebook app to bring attention to its new reality dating series "Are You The One?" With agency Wenderflack, MTV launched a Facebook app called "Match Machine" last February.
With a push of a button, the app tells users which of their Facebook friends was their best romantic match. Huffington Post coverage of the app heralded its matchmaking abilities as spot on.
The app was used 84 million times, and shared 7 million times. As a result, "Are You The One?" received 840 million impressions from this campaign worldwide, and audience numbers that landed the show a second season.
3. Listerine Pairs Its World Cup Sponsorship with Social Campaign
In sponsoring the FIFA World Cup this year, Listerine combined elements of traditional and new media, contests, hashtags and real-time content. A prominent online social element of the coordinated campaign was the global contest, "Power To Your Mouth" – a campaign that gained the mouthwash brand and its agency MRY a nomination for the Mashies award for Best Facebook Campaign.
During the tournament and in the build up to it, Listerine commented on news and events around the World Cup on Facebook and Twitter. Reacting in real-time, content receiving the most interactions were turned into advertising and "promoted content" within the Twitter and Facebook marketing campaigns. Special care was made to delivering content in best form by device, and in multiple languages, as the campaign spread across 40 countries.
"This campaign represents the first time one of our consumer brands has leveraged real-time social marketing on a global scale," Gail Horwood, vice president, worldwide digital strategy for Johnson & Johnson Consumer Companies, said in the company's press release. "We are harnessing the power of a major global event to connect with football fans by helping them fuel conversations about matches in a highly relevant way."
For instance, moments after an incident during the tournament where one player bit another, Listerine found a humorous way into the conversation:
We recommend a good swish after grabbing a bite of Italian. #WorldCup #PowerToYourMouth

— Listerine Global (@ListerineGlobal) June 24
4. NBA Hosts Live Q&As Between Players, Fans On Facebook
When your major asset is your people, you bring these people to the fans. That's what the NBA did using Facebook Live streams in league-hosted Q&As during the NBA Finals in June. Some of the league's biggest stars, LeBron James, Dwayne Wade and Tony Parker, answered fan questions posed across social media channels on an interactive live video stream native to Facebook.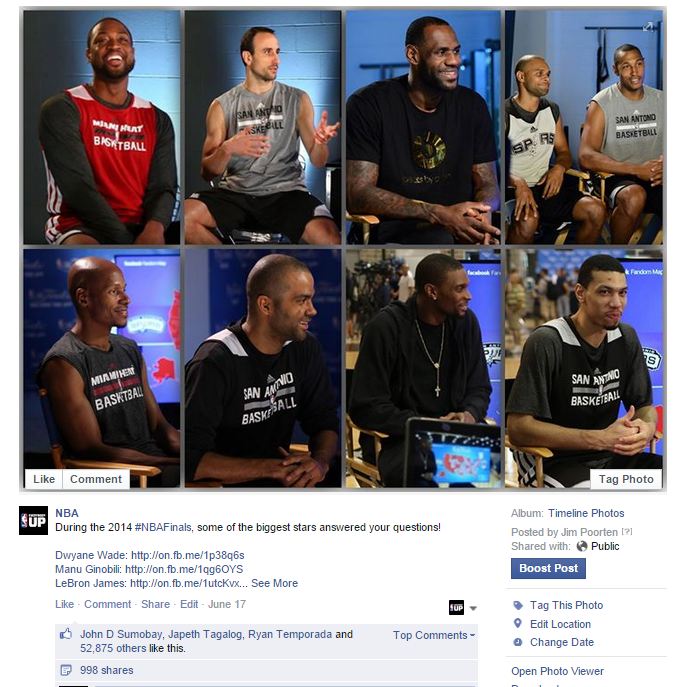 The Facebook Live Q&As marked the NBA's first time opening talent up to fan questions and engagement on social media. As a result, during the NBA Finals period, the NBA saw a record amount of interactions and impressions on Facebook, reaching 70 million fans on the Facebook Live posts alone. The league saw 130 percent year-over-year increase in fan interaction on Facebook during the final championship round.
What are some other outstanding Facebook marketing campaigns you saw in 2014?