4 Email Marketing Campaigns That Really Delivered
A few ways brands can successfully grow revenue, customer loyalty.
Four well-executed email marketing campaigns targeted readers when they were ready for conversion and overwhelmed readers with value.
From an abandoned cart campaign that aided in 25 percent increased email revenue to reinventing email marketing to old lists, these email marketing campaigns hold lessons for all types of businesses. Get ready to be inspired.
1. Tim Ferriss Amasses 300K Email Addresses Before Sending a Single Email – Then Grows It 60K More
Tim Ferriss, author of "The 4-Hour Workweek," angel investor and highly praised business and lifestyle podcaster and blogger, never used email marketing before this year. Ferriss put up his book website and blog and, respectively. Each had a standard email capture for visitors to enter their email address to get more from him. It wasn't until August of this year that Ferriss checked to see how many email addresses had accumulated: 300,000.
He set out to use email as a testing environment, and a way to reach fans where other channels were becoming crowded – like Facebook's throttling of organic reach for brand pages. Ferriss sends emails once a week or so, and never takes email best practices on faith.
"Up to this point in time, and I might test this, but every blog post that I sent out has been put in its entirety in the email. That violates a lot of best practices that I've been told I must follow, for click-through rate and seeking advertising and blah, blah, blah," Ferriss told MarketingSherpa.
Before Ferriss ever sent an email, he invited feedback from blog readers, the very audience who would be receiving emails. He wrote a post titled, "Tim Ferriss Rethinks Email," where he laid out the email program, promising VIP status, access to live Q&As, free stuff, and no spam or b.s. Opting out is also dead easy, with a prominent unsubscribe.
"We almost tempted people. We practically encouraged people to unsubscribe, to minimize headache for everyone," Ferriss said. "It's not about the size of your audience, the size of your list. It's about the size of your qualified, interested audience or list."
The results: 60,000 new subscribers since Ferriss's announcement blog posts, and emails that see a 35 percent average open rate.
2. Product Hunt Grows Email List Into 2 Million Website Visits a Month
The product recommendations site, Product Hunt, curates apps, websites and tech gadgets, where users can vote discoveries up in Reddit style. Since its January launch, the site's traffic has grown by 50 percent every month. Product Hunt actually started as an email list by the site's founder Ryan Hoover, who collected products and sites, and shared them with some friends.
As more people wanted in on the habit-forming emails, it became clear to Hoover that he was on to something. In an interview with First Round Review, Hoover explained that when he decided to build a site, the email list was the most important asset he had, and would be the springboard for driving traffic. Notable marketing tactics that make Product Hunt emails so addictive include upvotes of listed products, powerful social proof, and delivering on the promise of fresh daily content.
The results: In November, Vero reported that Product Hunt had 70,000 email subscribers, and that emails were responsible for 2 million monthly visits to the website.
3. Kentucky Derby Turns Mystery List Into Major Asset
The Kentucky Derby is the longest consecutive-run sporting event in the country. will mark the 141st run. When Kate Ellis joined the legacy horse race as marketing analyst last year, she found they had a mystery email list. "I was kind of thrown … into managing our email marketing, and we had all these lists, just leftover lists," Ellis told MarketingSherpa. "Not sure where they came from, who the people were or what they're interested in."
By dividing content into buckets and paying close attention to which subscribers were interested in what features, she was able to learn more about the people behind the email addresses, and give them the kind of content they were looking for.
For a three-month period running up to the Kentucky Derby in May, every issue of The Derby Insider weekly emails featured three types of content: equine-focused content about the horses in the event, lifestyle-focused content covering the fashion and party scene of the Kentucky Derby, and wagering-related content like expert picks for the top horse geared for the betters.
Segmenting the list and targeting the content for each, Ellis and her team learned lessons like, "that might be true of this segment, but what we're learning over here is that there's another segment that's interested in something else, or we're learning that that segment might actually be a lot larger than we think it is," Ellis said.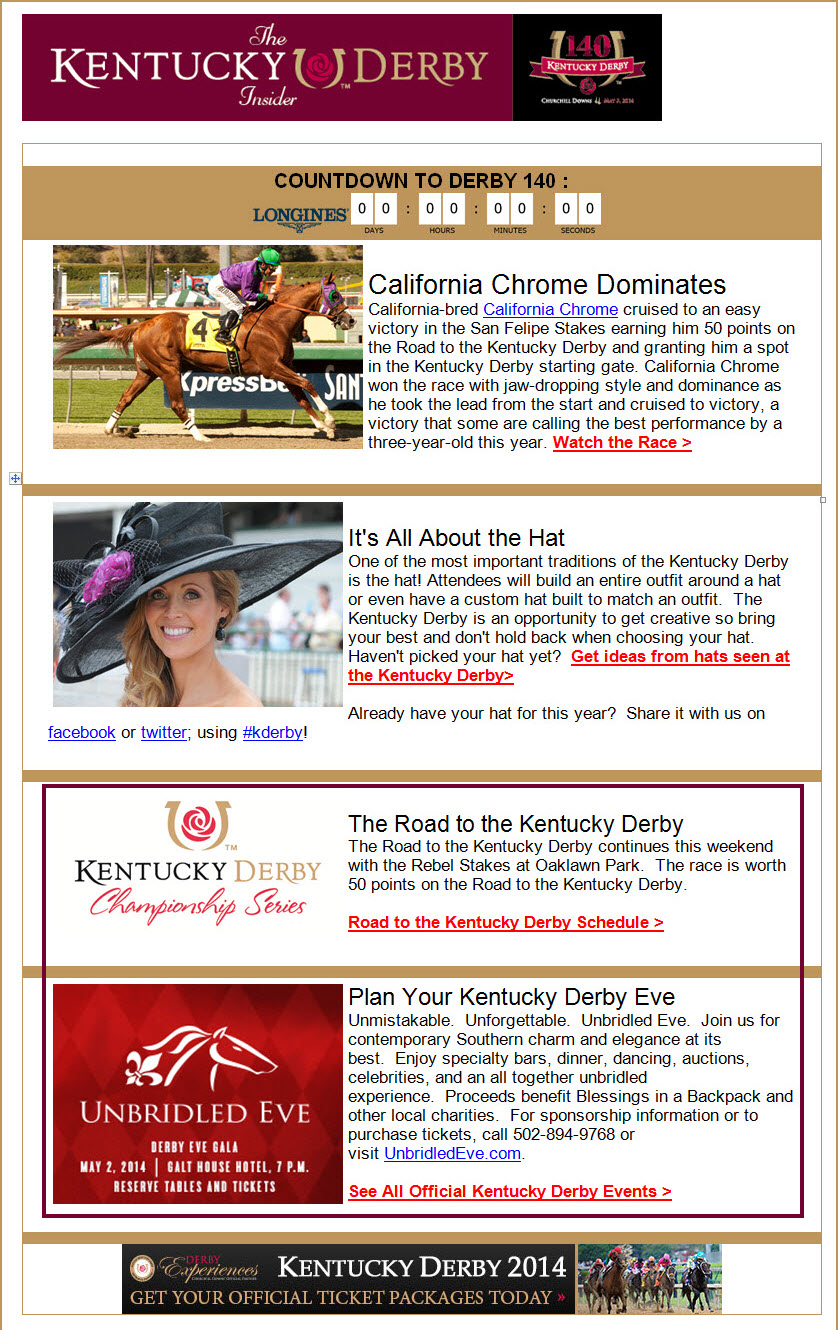 The results: An average read rate of 37.35 percent, an average click-through rate of 19.44 percent, and a reduced opt-out rate of 64 percent. On top of the email performance, wagering on the Kentucky Derby grew 1 percent, and the website saw 19 percent more visits.
Derek Harding, founder and CEO of Innovyx, says this campaign "is reflective of the situation in which so many marketers find themselves."
Referring to the situation that Ellis found herself in, Harding says he believed it ended well because Ellis was "methodical in her approach and strategic in her execution. She started by taking stock of what she had; knowing what you have to work with and making the best use of those assets is vital – and she set about learning what she didn't yet know. She also tackled the basics first."
Harding adds that while the "content is king" statement has been uttered so often that it's now a cliché, "it's also very true," and that Ellis started with the content.
"Rather than going straight to a complex behavioral approach, she started with good content and a calendar, then added in small amounts of segmentation based on behavior as the learning accrued."
Harding mentions that the one thing he may have done differently is the creative side. "The creative is never mentioned in the case, and with good reason, it's not strong. But even that goes to show: you don't have to do everything perfectly in order to be successful."
4. Office Supply Company Grows Revenue 25% with Abandoned Cart, Time to Reorder and Coupon Campaigns
JAM Paper & Envelope had really neglected the email channel since jumping into ecommerce with a website. Until this year, the company's email marketing campaigns consisted of weekly to monthly batch-blast emails to everyone on its list. the company launched a series of strategic campaigns to target segments, and moved from manually uploading emails to an automatic email signup process on its website.
According to Andrew Jacobs, JAM Paper Director of Ecommerce, in an interview with MarketingSherpa, the company's email program went from one email a week to 40 to 60 emails in any given week today, including abandoned cart emails sent out an hour-and-a-half after abandonment, and time to reorder emails that see up to 50 percent conversion rate.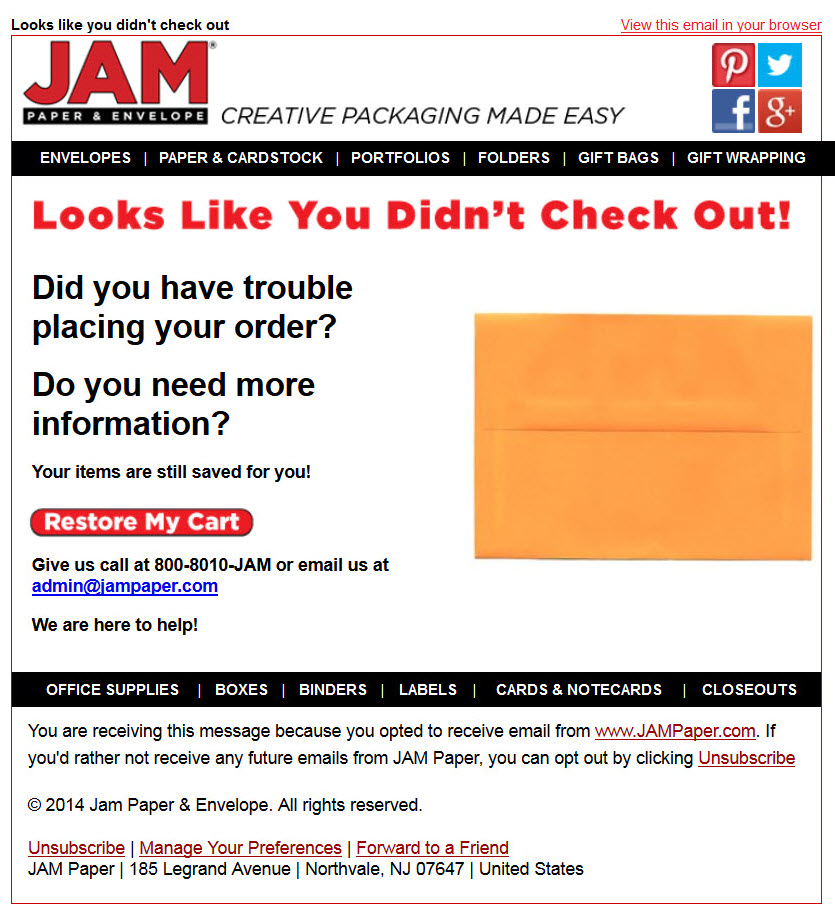 The results: JAM Paper's email revenue is up 25 percent from last year. The abandoned cart series had an average open rate of 31 percent, 12 percent click-through rate and 23 percent conversion rate. Since the "time to reorder" email series began, it's had an average of 45 percent conversion rate.
What email marketing campaigns do you think really delivered?