30% Of Shoppers Leave Ecommerce Sites In Less Than 1 Minute
How can brands better serve consumers during their shopping journey?
Ecommerce sites only have seconds to capture and engage their consumers and help move them down the conversion path. A new study from Monetate gives clues into what shoppers are doing on an ecommerce site in the span of one hour, when 75 percent of all purchases occur.
Every minute counts on your ecommerce site to move your consumer to the checkout. In fact, you've already lost 30 percent of your visitors after they've only been on your site for less than 60 seconds. This according to new findings released by Monetate in its "EQ3: Gone in 60 Minutes Report."
The study found that nearly 75 percent of all ecommerce purchases were made within an hour, and each segment of time spent on the site represented a set of common behaviors.
What Happens In 1 Hour On An Ecommerce Site
In the first minute, 77 percent are in product discovery mode; 19 percent are looking at product detail pages, and only 4 percent ever put an item in the cart.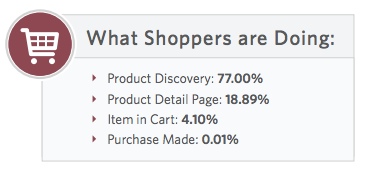 In the first 15 minutes, 66 percent are still in product discovery, 27 percent have moved to product detail pages, and 8 percent have added an item to the cart. However, only 0.22 percent have purchased at this time.
The following 30 minutes show a "dwindling number of visitors," according to the report:
By the time minute 16 in a session has rolled around, one of three things has occurred: your visitor left your site, your visitor made a purchase, or your visitor is a dedicated browser. The bad news is that the first of those three is the most frequent. The good news is that those who are left at the 30-minute mark convert into customers at a higher rate. Interestingly, more visitors are purchasing relative to the general visitor population during this timeframe than at any other time window.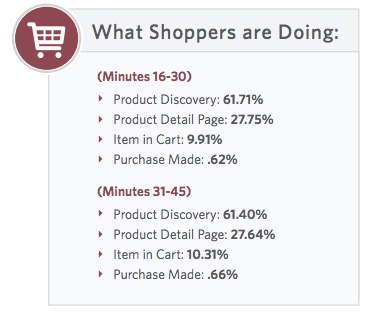 Monetate reports that by the 45-minute mark, 68 percent of purchases have been made. The last 15 minutes of the hour garners only 6 percent of conversions.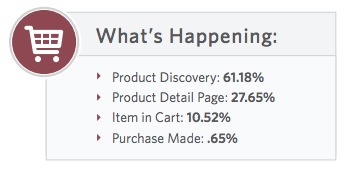 Digging a little deeper into the data, however, Monetate reports:
The most popular time for a purchase, measured by volume, was between the fifth and eighth minutes of a consumer's session.
Purchase activity peaked relative to traffic during minutes 35 through 50.
After 61 minutes, all metrics experienced a steady decline.
3 Tips For Engaging Consumers During Their Shopping Journey
In its report, Monetate gives takeaways for brands to better connect with consumers as they move along their shopping journey.
Make sure visitors coming to your site aren't confused about where to turn when they land. "Message-to-site consistency means using the same messages and products that got someone to click your CPC ad or email CTA on your website," the report states.
Remind shoppers who have abandoned their carts to come back to complete their purchase. "Use retargeting tactics, such as display ads and triggered emails, to drive those individuals back to the site. If you dive into your site analytics, you'll know how many days you have to make an impact this way. And you can always experiment with alternate values—free shipping, free returns, loyalty club points—to see what resonates with your close-to-converted customers," says the report.
Optimize the checkout process. "The key, of course, is keeping your visitor focused on the task at hand," the report states. "That might mean hiding navigation bars, removing product recommendations and social sharing buttons, adding a thumbnail of the products being purchased."
You have merely 60 seconds to make an impression on your ecommerce site, and 60 minutes to convert that shopper into a customer.
How will you improve your shopping journey?