Consumer Reviews Strongly Influence Tablet Buyers
62% of consumers considering buying a tablet say consumer reviews help them make their decision to purchase.
By Patrick Hong
A survey of consumer purchase journeys across multiple devices by Chadwick Martin Bailey, has revealed that consumer reviews are by far the most influential resource in consumer purchase journeys, and increasingly, consumers are looking to use mobile devices to inform their final purchase decisions.
Chadwick Martin Bailey, a market research and consulting firm, surveyed 2,000 consumers who had recently purchased tablets, in order to find out what had influenced their purchasing decisions. During the course of the purchase journey:
48 percent of consumers discovered new brands and products, mostly while browsing content online.
29 percent of consumers discovered new brands while searching the web.
28 percent discovered new brands via online advertisements.
28 percent of consumers also discovered new brands via TV advertisements.
The primary trigger for consumers to purchase a new tablet was due to technical issues with their own devices, with 51 percent of consumers purchasing a handheld device after experiencing current "tablet or PC issues." Sixteen percent purchased a new tablet because of "lifestyle" changes.
The majority of research during purchase journeys was conducted on mobile devices, with two-thirds percent of consumers using their smartphones to seek out information on products, however just 8 percent of users went on to complete purchases via mobile.
Chris Neal, VP of the Technology and Telecom Practice at Chadwick Martin Bailey described how consumers were conducting their research:
"We're seeing that smartphones, in particular, are indeed playing an increasingly important role in the consumer purchase journey for tablets - including when people are inside a physical retail store. Most of this activity is still happening on the mobile web, rather than within any specific mobile application, which has implications for media spending optimization, digital creative, and retail channel management."
In a telling statistic, approximately a quarter of tablet purchasers used a mobile device while in-store to compare prices, check consumer reviews, text a friend for advice, or pay with a mobile wallet. However, the same proportion of users sought out the advice of a sales associate while in-store.
The Influence Of Consumer Reviews
By far the most influential resource used during consumer research phases for tablet purchases are consumer reviews. Sixty-two percent of respondents said that they were influenced by consumer reviews, with 19 percent stating that they found consumer reviews to be the "most influential resource" in aiding their decision making. Consumer reviews were considered even more valuable than reviews from technology experts.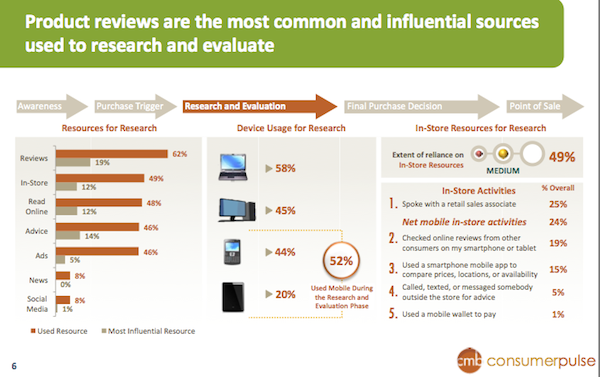 Social media, on the other hand, wasnt considered to be a useful resource by many consumers, with just 12 percent of respondents saying that they consulted social media portals during their purchase journeys.
In-store, price becomes a defining factor for purchase decisions, with 43 percent of consumers making a final transaction because the particular store they were in offered the best value for a product.

Optimizing The Consumer Purchase Journey: 4 Key Takeaways
The study suggested four takeaways for brands looking to optimize consumer purchasing journeys:
Optimize mobile experiences for the consideration and evaluation phases of consumer journeys: While two-thirds of tablet shoppers use smartphones to research products, only 8 percent go on to transact via smartphone devices. Brands should prioritize mobile experiences for these stages of consumer journeys.
In-store mobile experiences are also high influential: While 25 percent of tablet purchases seek consultation from a retail sales associate, just as many search for information about pricing, availability, or discounts as part of their final decision making.
Consumer reviews are critical: Reviews, particularly consumer reviews, proved to be the most influential resource during the consideration and evaluation stages of purchase journeys. Ensuring your product comes across favorably on search phrases and key ecommerce websites is extremely important.
Learn to manage organic search and reputation: Managing the way both consumers and influencers are reviewing products is a complex, but not unmanageable task. The challenge for brands will be to mobilize the resource, skills and technology needed to ensure sentiment within organic search and consumer review portals comes across not only in a positive way, but with a consistently exemplary level of recommendation.
When it comes down to it, consumers now expect nothing less for the products they eventually resolve to buy.
You can download the full study here.

Do you agree with the study's findings? Are consumer reviews also a crucial resource for your company? Let us know in the comments, or Tweet us @momentology News.