Mobile App Usage Forecast: Consumers Will Spend More Time, Money
Brands must continue innovating if they want to ensure long-term loyalty and revenues.
App usage and revenues are growing to record-breaking levels on all the major mobile platforms. However, research has revealed telling sentiments from consumers who are beginning to use and purchase certain apps less, showing that brands need to ensure they aren't annoying consumers, and instead to deliver continued innovation with app products in order to win long-term loyalty.
One of the most significant pieces of marketing data to emerge was that Apple's App Store revenues rose a stunning 50 percent in alone, with end of year revenues topping $10 billion (to put this figure into context, total App Store earnings in the previous five years numbered $15 billion altogether). New Year's Day incidentally, broke the record as the single biggest day ever in App Store sales history.
Put simply, the app market is booming not just in popularity, but in the number of apps that are winning revenues.
The change is affecting markets on both sides of the Atlantic: according to eMarketer, More than 80 million consumers in the U.S. will pay for mobile apps at least once this year, representing 33.3 percent of all mobile users. In the UK, research by app developer Conjure, surveying 2,000 British adults on their app usage, habits, and perceptions, has revealed valuable insights on what consumers are expecting from the apps they are using.
Mobile App Revenues Key Stats
Mobile smartphone and tablet usage is still growing, according to eMarketer:
93 percent, or 80.1 million U.S. smartphone users, and 90 percent of tablet users will download and install at least one app this year.
35.8 percent of all U.S. smartphone users will purchase apps, a figure which totals 65.2 million people.
44 percent of U.S. tablet users, 60.9 million people, will purchase apps .
Conjure's survey, which accounted for the entirety of the UK population, revealed that:
The average Brit spent 24 percent more on branded apps in the 12 months preceding November, amounting to a total average spend of of £89 annually, rising from the £72.30 they spent in the previous year.
iOS users once again provide to be the biggest spenders. Consumers who only used iOS had higher overall spending, at £89.36 annually.
Consumers who only used Android spent £62.80 annually – a difference of £26.56.
Developers, however, would be wise to work on apps for the Android platform, with the survey revealing the OS to be the dominant platform, with 49.6 percent of the overall mobile OS UK market share.
iOS still had a healthy market share of 38 percent, while Windows Phone showed healthy gains with 15 percent of the overall market share.
Smartphone and tablet download stats:
UK consumers downloaded an average of 5.5 apps, slightly less than's 5.85 apps, indicating a market that is starting to focus on improvement rather than growth.
Tablet penetration in the UK has continued strongly, with 61 percent of the UK population now owning a tablet.
10.3 percent of UK consumers now own a smartwatch.
For Londoners that figure was much higher at 17.8 percent. (this figure will probably be much higher with the release of Apple Watch).
What Do Consumers Expect From Branded Apps?
Approximately 1 in 4 consumers spent more time using branded apps on their devices in the: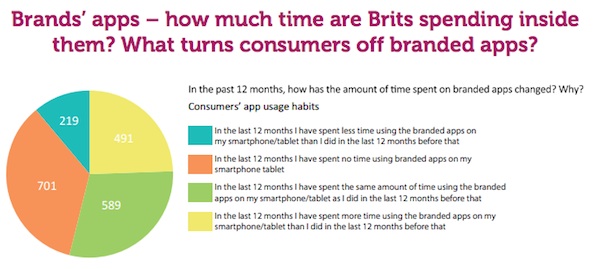 Image Credit: Conjure
Just 11 percent of consumers spent less time on their devices using branded apps, and overall this is a positive signal, showing brands are improving in their ability to keep consumers engaged via apps.
Brands would do well to heed the feedback of dissatisfied consumers, those who were spending less time on branded apps:
19 percent of dissatisfied consumers cited repetitive or irrelevant push notifications as one of the primary reasons why they were using an app less.
11 percent of dissatisfied consumers find apps less exciting, interesting, and innovative.
Image Credit: Conjure
Innovation And Revenues
One area that has seen been developing in recent years has been in the paid/freemium models, as a means of monetizing app downloads.
"Many developers have tested the paid download model against the various iterations of the free model—namely in-app purchases, subscriptions and in-app advertising—and on the whole, they've found the latter approach to be more lucrative," eMarketer reported.
It shows that app developers must continue to evolve their product to adapt to changing consumer sentiments.
With the app markets likely to continue their monumental revenue growth, these signals from users being turned of app usage should not be underestimated. Brands need to continue to improve and innovate in the app space to engender long term customer loyalty and engagement. After all, innovation is the ingredient that has been key to the meteoric growth in the app space.
"Brands still need to think about how they can take advantage of the wide range of instruments stuffed into the modern smartphone to wow their users," according to Conjure's report.
You can download Conjure's full Apps and Brands Benchmark Report here.

Is innovation key to continued revenue growth in the app markets?