4 Exceptional Content Lessons From Getty Images & Lean In
This visual collection illustrates ways every brand can reach their customers.
On the one year anniversary of launching the Getty Images and Lean In Collection, it's a great time to reflect on why this visual collection of a modern, more empowered woman was so successful. As brands struggle to find their story, this collection illustrates ways every brand can approach content, content curation, trends, audience research, and storytelling to reach their customers.
What Is The Lean In Collection?
Getty Images and LeanIn collaborated to create a library of images that depicted powerful women, girls, and those who support them and their quest to lead. Their goal of visualizing female leadership in work and in life has been wildly successful.
The Lean In collection has been licensed in more than 65 countries, sales have doubled, and the collection has grown from 2,500 images to nearly 5,000.
Here are four things brands can learn from the content marketing strategy used by the Getty Images Lean In Collection.
1. Leverage Curation
When the collection launched, nearly 60 percent of the images curated for this popular collection already existed in the Getty Images archives. It's not that the empowering images didn't exist, it's that they needed to be curated in a way that could tell a more accurate story.
Curation is a powerful storytelling mechanism. Doing a content audit to first establish what you have can help you identify trends, inside and outside of your brand, to tell a more important story.
2. Focus on Trends
Pamela Grossman, director of visual trends for Getty Images, has an uncanny knack for understanding the surfacing of trends and getting ahead of it to help her team provide the imagery that supports current thinking and ideas.
The collaboration between Getty Images and LeanIn wasn't happenstance, it was forged by the creative team (which employ a psychologist) to help understand the desires and emotions driving people as they work, play and make sense of their world. Focusing on this trend, the understanding that women are 50 percent of the workforce but take only 14 percent of leadership position, allowed the Lean In organization to craft a story with visuals that told a narrative many people felt wasn't getting told.
3. Know Your Audience
Getty Images audience is varied, but a core target segment is brand managers. Brand managers can't afford to get it wrong. Just ask Urban Outfitters, which tried to reach their college-age audience by selling a blood-spattered Kent State University sweatshirt that marked the 1970 deaths of four students who died in protest of the war. Their "vintage" collection was careless, thoughtless, and received a great deal of backlash.
This Getty Images collection helped brand managers and creatives find the images they need to depict the reality of being a professional, a woman, a mother and all the jobs and duties associated with that role if they want to connect with their audiences.
4. Be Inspiring
Sheryl Sandberg's book, "Lean In: Women, Work, and the Will to Lead" is less a manuscript on leveling the playing field for women and more of a movement. The website, LeanIn, and the supporting documentation including Lean In Stories and directions for running Lean In Circles don't just tell but show how women and men are advancing the desire for equality.
Creating content for the purpose of creating content is a waste of time. Unless your content inspires and moves people to discussion and action it is worthless. Readers and customers are bombarded by more than 16,000 visual images/messages every day. Your customers are overwhelmed by data, stories, and imagery.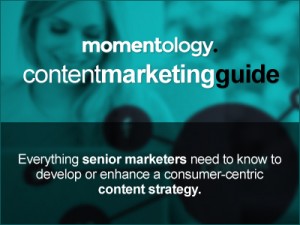 This collaborative commercial effort also has a cause marketing element, a portion of the proceeds from the Lean In Collection goes toward the creation of Getty Images grants for images showcasing female empowerment and to supporting the Lean In mission.
The success of the Getty Images Lean In Collection is due in part to the fact that it inspired generations of women and men to rethink how they see women. A couple of years ago a Google search for "professional business woman" would have returned images of young, sexy women carrying briefcases. Now the same search returns more realistic imagery of real women in different professions, of different ages, in different styles of clothing, in different roles which more accurately depict the role and reality of a woman.
The biggest way these brands collaborated to inspire? They told the truth.
Takeaways
Examine the content you already have. Curation is a powerful form of storytelling.
Understand trends. What are your customers talking about? What keeps them up at night? Unless you're sharing real solutions to real problems and participating in the conversation your story will just be noise.
Your storytelling can't begin until you understand your audience. Don't try to boil the ocean, it's not necessary to reach everyone. Focus intently on your target market and what they care about if you want to connect.
Lead the conversation. As a brand you can't just participate in the conversation. Be innovative and inspiring, then get out of the way and let your customers participate in the storytelling. Tell the truths that are difficult to share and let the story unfold with the help of your best customers.
What are some of your favorite examples of content that inspires consumers?