7 Steps To A Customer-Centric Content Scorecard
Content Scorecards help you analyze the past, present, and potential future performance of content.
No matter how many content projects or campaigns we commit budget and resources to, it's imperative we understand the value of that content to the brand and the value to the customer. Content Scorecards are one of the best, most relevant tools for analyzing past, present, and potential future performance of content.
Content marketing continues to be a large focus of digital marketing discussion and requires us to answer some tough questions:
Should we create content?
Who creates our content?
Why are we creating content?
How much content should we create?
How do we budget for content?
How do we measure the effectiveness of content?
Content Scorecards help drive an iterative process of customer-centric content and can be an important tool for the planning, creation, promotion, and measurement of content.
What Are Content Scorecards?
In "The Language of Content Strategy", Scott Abel writes:
"Content Scorecards are an assessment tool used to evaluate content against specific criteria. Ratings are assigned to each criterion and are presented in a scorecard. It provides insights about content strengths, weaknesses and priorities. The scorecard approach quantifies and communicates qualitative data to stakeholders in an engaging and persuasive way."
One of the most powerful attributes of Content Scorecards is that they leverage quantitative features to something as qualitative as content. Here are seven reasons why Content Scorecards are valuable.
1. Know Your Goal
Whether your goal is to create awareness, build brand loyalty, or drive sales, a Content Scorecard helps align campaign objectives and goals.
Focusing on a single metrics (online sales) keeps the view fairly myopic. Having three to five metrics can help create a more thorough understanding of the performance of the campaign.
We're going to use five criteria for this example that includes brand, sales, and loyalty goals including:
Brand Value
Perceived Customer Value
Online Sales
Offline Leads to Sales
Referral Value
2. Give The Content Scorecard Numbers And Words
Think of the Content Scorecard as a way to tell the story of your customer's experience with your content. Each criteria in the scorecard is a chapter in your marketing story.
One Content Scorecard feature that can help illuminate value of content to customers is inclusion of customer feedback and surveys about the content consumed. The criteria can be something as simple as Perceived Customer Value of Content, which gets a score as well as real feedback from customers.
Something as simple as a testimonial – "I loved the visual trends video examples of how brands are leveraging the 'LeanIn' and "Like a Girl' movements" – can help show how a sentiment (qualitative) can be quantitative.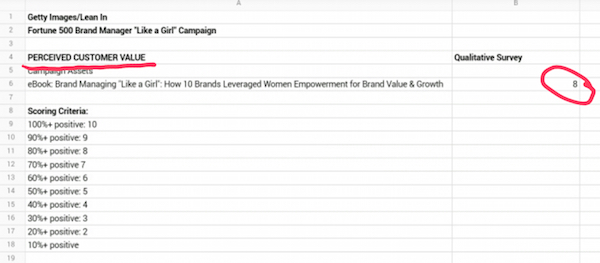 Another criteria can be Brand Value of Content. This can include organic search traffic, social sharing, links generated from the content, and other criteria that impacts reach and authority for the brand.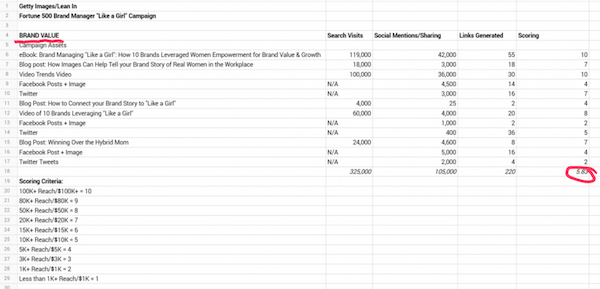 Building a Content Scorecard with multiple goals (brand engagement, loyalty, sales) helps marketers see content the way customers see content in an ecosystem.
Looking just at one data point (revenue) generated for one goal (sales) likely won't provide a full understanding of the value of content. (Note: the below image is a sample, not actual data. )

Leveraging a Content Scorecard with numbers and words aligns the analysis with the complexity of content consumption, making it easier to more accurately ascertain its value.
The next criteria could be Revenue Value of Content shared with an aggregation of data points.
3. Integrate The Scorecard
Don't be afraid to include other criteria such as Offline Value of Content. This could include a reduction of calls to the customer service center because content you created answered those questions.
If your goal is building brand awareness, your Content Scorecard may include metrics such as visits, social engagement, subscribers, comments, or links that help drive authority for your website and brand.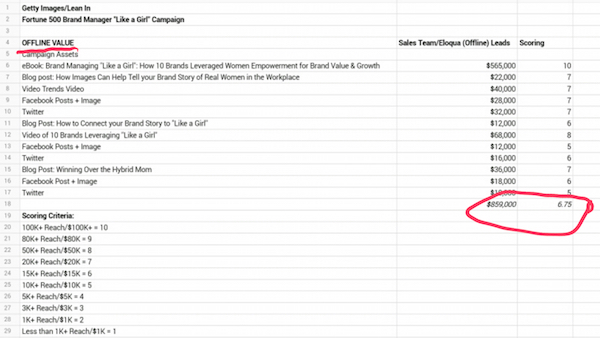 Combining all of your KPIs into a single Content Scorecard, regardless of goal or channel, helps drive integration.

If your goal is new leads in the pipeline, your Content Scorecard may include conversion rate as a key metric. With so many potential KPIs for each goal, it's important to agree in advance on which ones you want to track.
Leverage the Content Scorecard as a way to integrate teams and highlight contributions before, during, and after campaign launch.
4. Model And Build The Scorecard Prior To Campaign Launch
Give teams ability to review and provide feedback on the Content Scorecard, its KPIs, and definitions.
The Content Scorecard KPIs should be agreed upon, modeled, and built out before the campaign launches. This assures two things:
Important elements of content assessment aren't left out (brand, social, PR, organic search, paid, mobile, business intelligence, etc.)
Cross-team alignment on what the goals are and how to quantify and qualify content success (or failure).
5. Set Regular Intervals For Analysis
Investing in a content audit, content maps, content pillars, editorial calendars, and a Content Scorecard is a lot of work. It's easy to instantly start obsessing about performance once a campaign launches. Monitor performance, but don't obsess.
Let the content do its job for a few days before you start jumping to conclusions about what is and isn't working. Let the paid, social, and other marketing teams promote and amplify content before you begin analysis at regular intervals.
Planning for, creating, and publishing the content is often the easiest part. Depending on the type of content created and the problem that you're trying to solve you may not have any conclusive analysis for two weeks or even more.
6. Project Future Growth Potential
Your Content Scorecard can include actionable analysis by projecting ways for new growth. One criteria could be Future Growth Potential of Content.
For example, you learn that a video you produced had 10,000 views, with a 1 percent conversion rate. Don't just think about getting more views. Leverage the Content Scorecard to provide analysis on ways to improve conversions. This is a great time to make the case for more budget or involving other teams. If little is being invested in video creation and production, then more budget, improved storytelling, and better video production will likely increase conversions.
Another criteria could be Referral Value of Content. Work with your email/CRM team to understand how the campaign content provided new referrals or newsletter subscriptions or increased the LVC (lifetime value of a customer).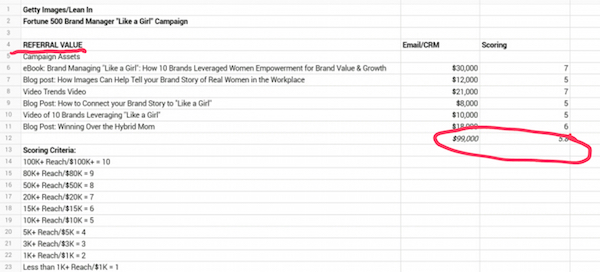 7. Learn And Improve
As Avinash Kaushik has said, you should "test, learn, and suck less every time."
Your Content Scorecard is an ongoing business need rather than just a project to test.
Help your integrated teams understand the importance of working together toward the business goals as well as the goal of testing and learning together.
Takeaways
Taking these strategic steps toward a Content Scorecard ensures that along the path of planning for, creating, promoting, and measuring performance of your content you can glean a lot about how your content reaches and engages your audience to achieve business goals.
Once teams are aligned around the Content Scorecard, it helps solve the problem of siloed analysis of content and becomes a powerful vehicle for telling (and growing) the story of what it's like to be your best customers.
Creating an insightful Content Scorecard can be a lot like storytelling, it takes a combination of strong subject matter expertise and creativity to make a compelling Content Scorecard that inspires and illuminates.
Do you leverage Content Scorecards to assess and grow your marketing campaigns? Why or why not?