Email Marketing Budgets To Surge
To keep consumers engaged, 61 percent of brands plan to increase their email marketing investment.
A recent survey shows that brands are ramping up their spend for marketing channels where they can best engage the consumer. Email leads as the "darling" conduit for communications and driving customer loyalty. Second is social media, and tying it all together is the mobile device.
Marketing budgets for are revealing how brands prioritize their channels for the coming year, and this gives clues into what that means for consumer engagement and demand.
StrongView, a company that offers products and services for cross-channel marketing, released findings of its annual "Marketing Trends Survey," which polled nearly 400 business leaders across sectors.
These business leaders indicated they would increase spend in the following areas:
Email marketing: 61 percent
Social media: 49 percent
Mobile marketing: 40 percent
Search, including SEO and PPC: 38 percent
Online display advertising: 37 percent
StrongView says this is indicative of what the consumer is responding to, and that it's no surprise email, mobile, and social are at the top.
"Over the past several years, we've seen consumers increasingly use their mobile devices to interact with brands across email, social media, and mobile apps, so it's no surprise that those three channels top the list for increased investment," said Jason Klein, director of marketing communications at StrongView.
And, there's a reason email it set to be the beneficiary of more resources in the coming year, according to Klein.
"Given that email generates a higher ROI than any other marketing channel, and is a preferred method for communicating with brands, more marketers are focusing budget increases there," he said.
Social is a driver for consumer engagement, and Klein said it's attracting budget for one big reason: brands have "proven how building communities can lead to brand loyalty and advocacy."
Tying it all together is the smartphone device, and Klein said the incredible adoption of smartphones paired with amount of data they provide to brands "make it a channel that's impossible for marketers to ignore."
Email Continues To Be A Brilliant Way To Build Loyalty
Earlier this year, StrongView released findings of another study it conducted that highlighted how brands gained the all-important customer loyalty.
In the study, email emerged as the most effective way to drive customer action, with 51 percent of brand enthusiasts reporting their last purchase was prompted by email communication, and 45 percent of non-enthusiasts reporting the same.
Additionally, on Black Friday and Cyber Monday, brands saw email marketing as a driver for ecommerce holiday success. One report by Custora showed:
Email marketing accounted for 27 percent of sales on Black Friday.
Email drove 24 percent of orders on Cyber Monday.
Which Type Of Email Communications Is Most Important?
The StrongView trends survey showed email campaigns which attempt to engage the consumer through triggers and transactions (42 percent), as well as lifecycle programs (41 percent) and newsletters (35 percent) were among the top beneficiaries for increased spend.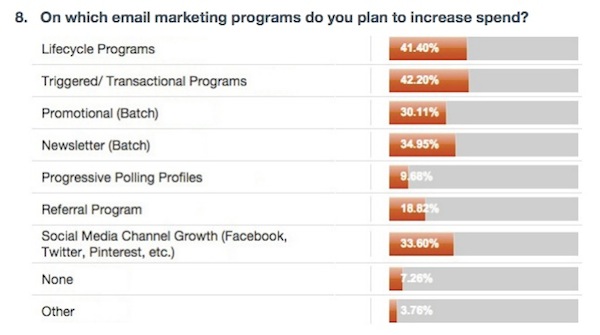 When it came to lifecycle programs, business leaders said they would increase resources for emails that drive customer loyalty first, with 45 percent stating increased spend there.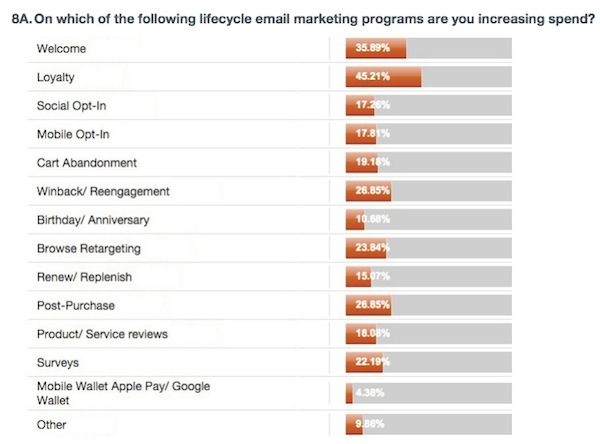 Time and again, we see that email communications are an important driver for staying in touch with the customer, driving loyalty, and showing results for the bottom line.
You can download the full survey results from StrongView (PDF).
Are you investing more in email marketing to communicate with your target audience and build loyalty ?