Will Be The Year Of Branded Social Communities?
With brand reach in decline on Facebook and Twitter, is it time to engage with consumers on brand-hosted forums?
Facebook has announced that, as of January, users will see a significantly less promotional posts in their feeds. It puts a huge dent into the plans of brand who engage in organic social media marketing. A recent Forrester report has indicated that the change could lead to the rise of dedicated brand communities, which will redefine the way brands approach social media marketing.
The news that promotional page posts will see significantly less distribution on Facebook starting, has rocked the social media world.
It's a trend that is beginning to be seen across various social media networks, not just Facebook. As TopRank Online Marketing CEO Lee Odden pointed out in Momentology's recent social media trends article:
"Social media is no longer organic: Growing monetization by social networks will diminish organic amplification to near insignificant levels. At the same time, social platforms will provide even more effective advertising options to reach specific audience targets."
It stems from a response by social media networks, and particularly Facebook, to cut down on the number of promotional posts in user's news feeds, something that was both detrimental for the overall usability of the social network, and ineffective for brands (with some reports indicating that as little as 2 percent of Facebook posts ever end up reaching a fan).
The decline of organic social represents one of a number of changes that are facing social media marketing. A recent study by market research company Forrester, "Predictions: Social Media Grows Up", has put forth a number of key insights. Perhaps one of the most significant points explored how as social media matures, branded communities will become much more influential and significant.
Why Branded Communities?
When you consider that only 2 percent of Facebook posts reach fans, it's no wonder that marketers have indicated that they are much more satisfied with engagement levels on branded communities than that achieved on Facebook or Twitter.
Branded communities offer more value than social posting for three key reasons:
Branded communities drive greater reach: While brands can encourage word-of-mouth marketing by posting content on social networks and hoping it gets shared, this is very hit and miss. It can end up being a drain on resources and a bit of a gamble for brands. Instead, brands could stimulate advocacy amongst communities – by encouraging satisfied customers to act as advocates and promote a campaign or product via word of mouth, brands have a much more effective way of ensuring reach and amplification.
Branded communities convert prospects into customers: When consumers are researching and considering the products or services of a brand, they place a great deal of value on consumer reviews, and recommendations. Adding ratings and reviews to product pages has been shown to increase revenues and conversions.
Branded communities cement existing customer relationships: The study revealed a key statistic about the behavior of a brand's existing customers: adults in the U.S. who are already customers are three times more likely to visit a brand site than to engage on Facebook. A branded community presence on a website helps to create loyalty and long-term (or lifetime) customers than Facebook or Twitter, which are, at least to a degree, disconnected from a brand.
Building A Branded Community
A  report about the "State of Online Branded Communities" by Comblu outline three pillars of engagement for building a branded community:
Feedback: Such as that gained from crowdsourcing new ideas for products or services, or on existing product quality, as well as marketing campaigns and provision for customer experience journeys. This provides essential data and ultimately, guidance for brands to adapt to customers and become more customer-centric.
Advocacy: Such as encouraging word-of-mouth marketing around a product or service. This both develops deeper relationships with stakeholders, and activates them to support specific brand missions and ideas.
Support: Branded communities can be led by brand and customer experts, that provides an excellent means for brands to extend their customer service delivery.
SAP
Perhaps one of the best examples of a thriving branded community is the SAP Community Network (SCN). With more than 2.5 million engaged members, the software provider delivers all three pillars of engagement via SCN: feedback, advocacy, and support.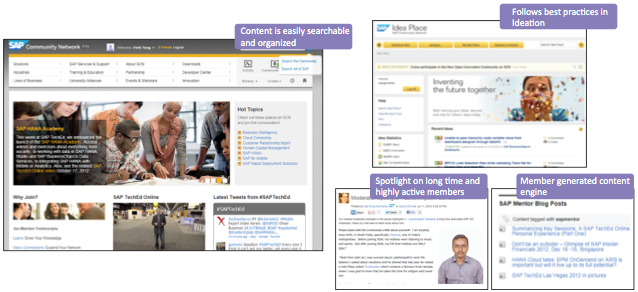 One of the secrets of the SCN's success is in its ability to provide a streamlined, compelling experience that is aligned to user needs and interests. The community itself is organized into 300 "spaces," each focused on a topic, product or industry, meaning users are able to connect with others who have the same needs, problems, and are seeking similar solutions.
The network has been recognized by experts as being one of the best examples of a successful branded community.
Richard Adler of The Aspen Institute said, "The SAP Community Network… may be the most extensive use to date of social media by a corporation."
Chris Andrews of Forrester said, "SAP has elevated its community development into an entire practice… it allows the most dedicated members of its community direct access to senior management to provide feedback on products, services, and strategy."
SCN also features a credible and effective reputation management system. Community members earn points for sharing expertise and helping others, and highly regarded community members can lead spaces as community managers, taking on the responsibility to help new members navigate the community and learn community structures.
Random House
The ability for users to engage on super-specific niches is a bonus, and it is also a characteristic of other successful social networks. Figment, a branded community fostered by publisher Random House, didn't seek to target their entire book-loving audience (a huge, and diverse group), but specifically their a small, highly engaged group with a strong common interest: teenage girls who love to read and write fan fiction.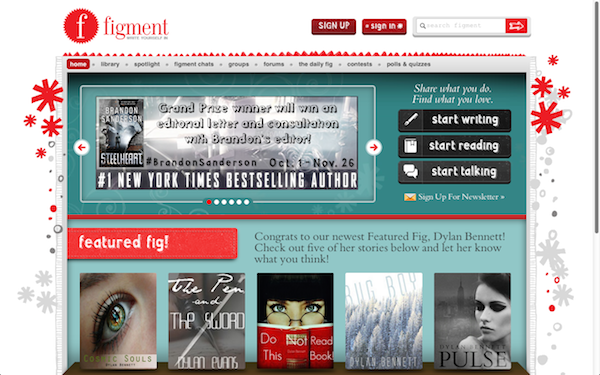 Figment users share, create, and moderate content, as well as raising awareness and recommending products. Highly engaged individuals become brand advocates giving sincere and earnest reviews of the products they enjoy, and this fulfills multiple touchpoints for other community members.
While on a smaller scale than the SAP community network, it shows that all consumer-facing brands can generate branded community engagement by focusing on specific, highly engaged niches within their audiences.
The Changing Role Of Social Media Marketing?
Essentially, the decline of promotional posts on social media means that the channel is no longer being viewed as an awareness generating channel to the extent that it has been in the past few years. Posting content with the hope that it will be shared and travel well has been a bit of a game of luck, and marketers are perhaps beginning to realize that this isn't the best use of the channel.
Branded communities may not be able to achieve the same reach as a viral post. Rather, a brand community relies on the advocacy of engaged individuals to spread messages and recommendations to immediate circles. The value of these personal recommendations will be much greater and more reliable.
Additionally, these communities serve as a crucial, additional touchpoint. In addition to raising awareness, and reassuring consumers via user-generated reviews and recommendations, it also builds loyalty within the community itself.
With the reach of branded communities permeating through multiple stages of user journeys, the change to social media marketing could begin to see brands finding new footholds and gaining new value from their work on the channel.
Do you agree that will see the rise of branded communities? Let us know @momentologyNews or comment below.