Which Retargeted Ads Perform Best With Consumers?
Research reveals consumers respond better to retargeting on trusted, contextually relevant sites.
There has always been a fine line between running a successful retargeting campaign and one that annoys, or even angers, consumers with overuse of intrusive advertisements. InSkin Media's Familiarity, Frequency and Fine Lines whitepaper provides an in-depth look at how consumers respond to retargeted advertising, with valuable insights on how to optimize the effectiveness of the medium.
To measure consumer sentiment for targeted and retargeted advertising campaigns, InSkin Media and RAPP surveyed a panel of more than 1,600 adults in the UK, representing varying genders, ages, social classes, and regions.
The study revealed that the majority of consumers are more than aware of advertiser's retargeting practices. However, sentiment toward such approaches varied, as did effectiveness.
When Retargeting Misses The Point
The negative effects of retargeted ads tended to be due to one or more of these reasons:
Excessive frequency of advertisements: It's an easy mistake for display advertisers to make, but serving unwanted advertisements to consumers, either due to lack of relevance, or due to over-serving of the same advertisements, can have a detrimental effect on consumer sentiment toward a brand or product.
Concerns about use of personal data: Consumers can often feel unsettled by advertising that seems to know "too much" about the products they have been researching, and what they may be interested in purchasing. For some, it can be a privacy concern when consumers feel their browsing history, specifically their cookies, have been harvested against their will as a means for marketers to serve them advertisements.
Lack of context of advertisements: Especially when ads appear completely out of context with the websites they are browsing, consumers are much more likely to feel repelled, or put-off by retargeted advertisements. Equally, retargeted ads that are irrelevant to the consumer's current mindset, on the purchase journey they are undertaking, tend to be ineffective.
Retargeting Key Stats And Facts
How do people feel about retargeting?
69 percent of consumers feel uncomfortable with advertisers knowing which websites they've visited, almost as many that feel uncomfortable with advertisers knowing their home address (72 percent) or their current location (71 percent).
83 percent of consumers are most uncomfortable about advertisers knowing their personal income, with slightly less most uncomfortable about advertisers know their mobile phone number (81 percent), or last online purchase (73 percent).
23 percent of people are unaware that advertisers collect personal information in order to serve relevant ads. Women are 56 percent more likely than men to be unaware of this.
How do people respond to retargeted advertising?
Consumers are 37 percent more likely to click on an ad on a site they trust.
55 percent of consumers feel put off buying products or services, if they see the same advertisement too often.
Just 10 percent of consumers were more likely to buy something as a result of seeing the same ad served repeatedly, even when based on retargeting data (mostly previous browsing history).
Over half of respondents, 53 percent, voiced that they found online ads to be interesting and useful initially, but found them increasingly irritating the more they were repeated.
Consumers were nearly 4 times more likely to be encouraged than discouraged to buy something after seeing a relevant ad while researching a product.
Success however, is a very fine line. After an ad is seen up to 5 times, consumer find them increasingly annoying and intrusive. After seeing the same ad 10 times or more, the majority of consumers may even begin to feel angry.
Ensuring Relevancy And Success
With the effectiveness of targeted or retargeted ads so changeable, dependent on a variety of factors and delicate consumer sentiments, it makes it a challenge for marketers to ensure their retargeting practices are carefully designed and tuned to perfection.
According to Paul Phillips, RAPP Media's head of media strategy:
"[Retargeting is] a fine line to tread as brands potentially lose control through a perfect storm of increased automated buying and the spectre of consumer cookie deletion. Marketers and planners are negligent if they don't devote more careful planning around frequency caps and other contextual filters before letting the maths men hit the send button."
Despite the challenges, there is still a great deal of evidence to suggest that retargeted advertising can be an effective channel when approached and managed correctly.
After all, as the study revealed, 17 percent of respondents had clicked on an ad to seek more information about an advertiser in the last 7 days, with 20 percent of respondents going on to buy something in the last month. Additionally an overall figure of 77 percent of respondents were fully aware that advertisers collect information about them with a view to generating targeting advertising for them, indicating that they had come to expect a degree of retargeted advertising as part of their online experiences.
Delivery On Trusted Websites
A key takeaway from the report was the importance of ensure retargeted advertisements were relevant in the context of the editorial environment in which they were being delivered. Ads that appeared out of context quickly drew negative sentiment from consumers, even at a frequency of just three ad views. At four to five views people even began to get angry about receiving retargeted ads, and at 10 views, up to one-third of consumers would be experiencing an extremely negative response.
In one of the most revealing insights, the study indicated that consumers were 37 percent more likely to click on an ad if it resided on a site that they considered trustworthy. For example, retargeted advertisements for Land Rover on the The Independent, a quality and established national newspaper, proved much more effective than the same ads placed on a lower-traffic, specialist-niche cat-themed blogging site.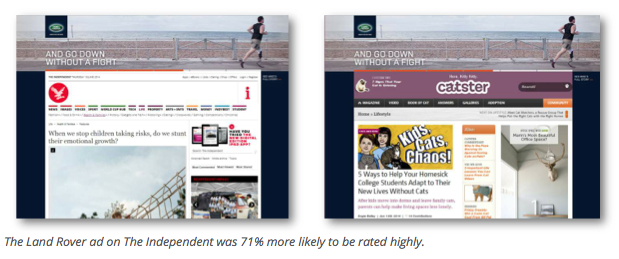 Image via Familiarity, Frequency and Fine Lines
Similarly, retargeted ads for Clinique on Marie Claire, the hugely popular fashion and lifestyle magazine, were 88 percent more likely to be rated highly then those on tutorial site, Instructables.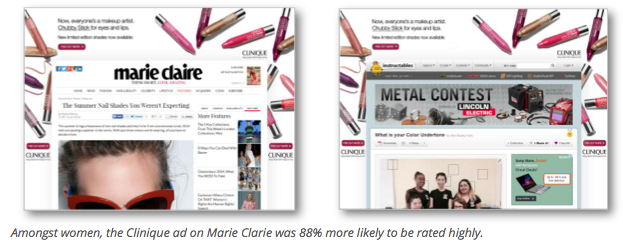 Image via Familiarity, Frequency and Fine Lines
Overall, ads served on sites seemingly unrelated to the product or service resulted in 11 times as much negative sentiment, and in all likelihood, would discourage any further purchase.
Managing Where As Well As When
The study shows that it's not just how frequently a consumer sees an online ad, but where and when it is seen. The most illustrative example of where retargeting can go wrong is advertising to individuals after they have finished the research phase. Here, retargeted ads are little more than an annoyance, and "could potentially do more harm than good."
Hugo Drayton, InSkin Media's CEO, said:
"Along with understanding 'how often' and 'when', advertisers must pay more attention to 'where' – a big issue in programmatic buying. Ads perform better on premium, trusted or contextually relevant sites. As with too much repetition, ads served next to irrelevant content may have a negative impact on consumer purchase intent.

The industry got carried away with retargeting. It's a powerful tool but it needs to be qualified by more thought and action to ensure it's used effectively. As an industry we risk alienating a generation of consumers. Online advertising is hugely powerful and positive, as long as it is used intelligently."
When it comes down to it, better targeting strategies must be a long-term, client-driven goal dedicated to improving efficiency. As the study reveals, retargeted ads can provide value to online consumer experiences and purchase cycles. The challenge for marketers will be to optimize efforts so that a helpful advertisement doesn't end up becoming a nuisance.
You can download the full report here.
Tell us how you think marketers should be optimizing their retargeting efforts. Comment below, or tweet us @momentologyNews.